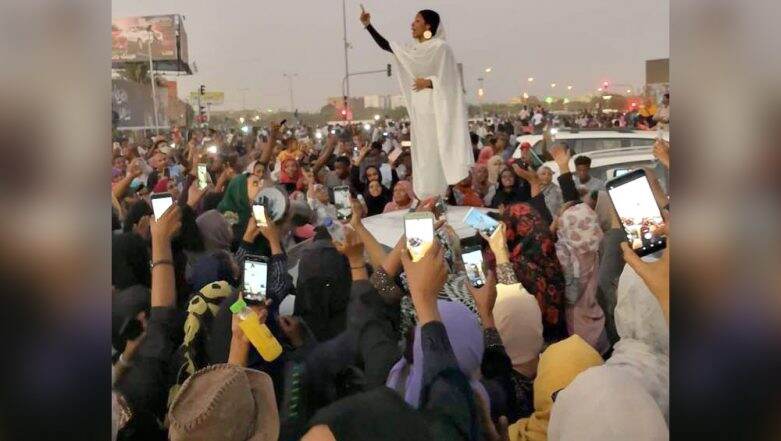 Photo of a young Sudanese woman standing atop a vehicle with her hand in the air raising slogan against the government during the ongoing protest in the country has gone viral on social media. Wearing a 'white tobe (outer garment)' covering her head and 'gold moon earrings', the powerful photo shows 22-year-old Alaa Salah leading the protest as hundreds surround her recording the scene on their phones in the African nation. She has been dubbed 'Kandaka', which means Nubian queen.
Lana Haroun told CNN that she photographed the woman on Monday during the sit-in outside the presidential compound and army headquarters. The striking photo captured in the centre of Khartoum, Sudan's capital has become the face of the protest demanding the resignation of President Omar al-Bashir who has been accused of human rights abuses and allowing political corruption. Sudanese Activists: 14 More Killed in Clashes with Police.
CNN quoted Lana as saying, "She was trying to give everyone hope and positive energy and she did it. She was representing all Sudanese women and girls and she inspired every woman and girl at the sit-in. She was telling the story of Sudanese women. ... She was perfect." As the photo went viral, social media users termed it as a powerful picture that will go down in the pages of history. Salah is an engineering and architecture student at Sudan International University in Khartoum. According to a Twitter user, by wearing the traditional dress of Sudanese women, she represented the working women of the country.
Here is the photo of the woman from Sudanese photo which has gone viral:
I've been seeing this pic on my #Sudan_Uprising TLs today and it's amazing. Let me tell you why. pic.twitter.com/Gt6Otvj0Al

— Hind Makki (@HindMakki) April 8, 2019
Watch the woman chanting slogans during the protest:
Don't know her name, but this Woman in #Sudan is leading rallies, standing on car roofs, and pleading for change against autocratic Bashir.

Here she is singing "Thawra" (Revolution). Remember this voice: pic.twitter.com/0JG31Tp4rZ

— Joyce Karam (@Joyce_Karam) April 9, 2019
Women have played a major role in the ongoing protests in Sudan in recent months which also led to the arrest of many last years. According to a Human Rights Watch report, women were often arrested for wearing clothes of their choice, citing reasons like they exposed hair or wore trousers. Some were even held for merely driving a car with someone from the opposite sex.
The protests began in December when the government tripled the price of daily necessities including bread. In the clash between protestors and Sudanese security forces on Tuesday, 14 people died increasing the fatalities in the anti-government sit-in since the weekend to 22. According to Human Rights Watch, the protests which began in December have resulted in the death of 38 people.