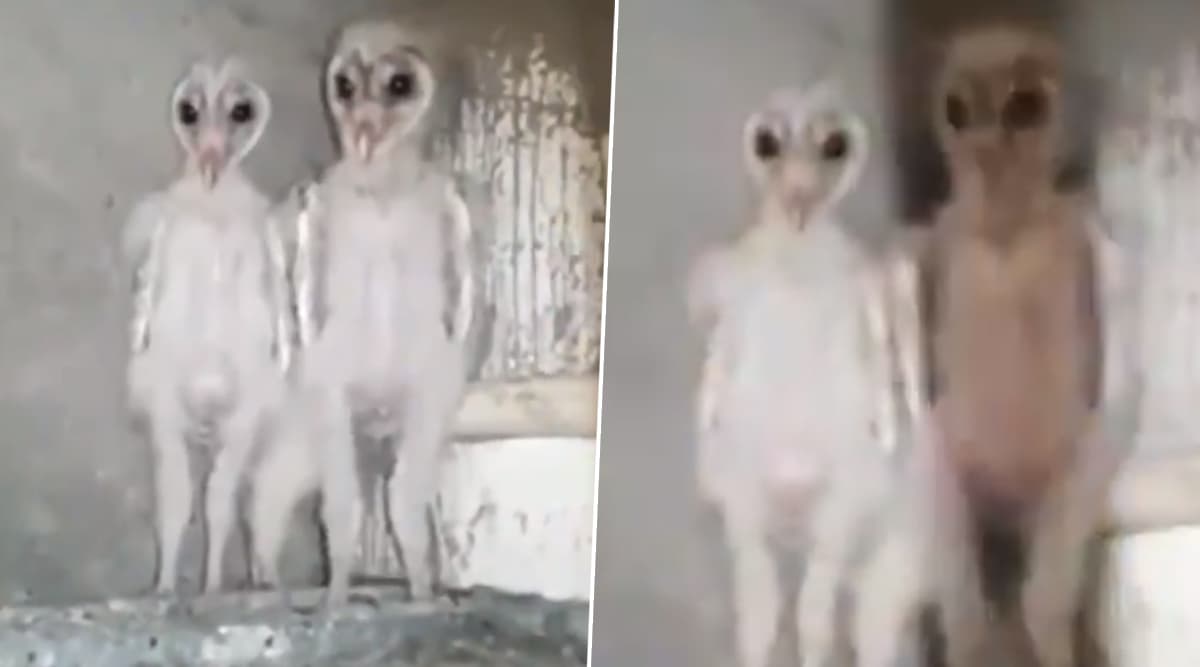 Are you too curious about aliens and extraterrestrial creatures? Do you think they exist? Do you want to know what aliens look like? If these are some of the questions that often come in your mind then maybe you should try looking at some baby owls if you get a chance too. Now, are you wondering what have owls got to do with aliens? Well, a creepy video clip has been shared on Twitter which shows two little babies of owls standing and staring into the camera. And while baby birds are supposed to be cute, these owls look like aliens! No, we are not kidding. The creepy looking video is now going viral on social media. An Owl With Two Mums and One Dad is Becoming an Internet Sensation, Watch Live Video of the Family.
Twitter user Daniel Holland shared a video on Twitter of two baby owls in an attic. In the caption, he wrote, "I'm now positive that people who claim to have seen aliens have actually just seen baby owls." They do look creepy honestly and netizens are shocked too. The video clip is going viral with over 12 million views, 3 lakh plus retweets and over a lakh likes. The large, beady eyes do look creepy and would make you question aliens too. 'Half-Man', 'Half-Owl' Creature Spotted in a Graveyard in Cornwell After Forty Years (Watch Video).
Watch the Viral Clip Here:
I'm now positive that people who claim to have seen aliens have actually just seen baby owls. pic.twitter.com/CAr65NG9qR

— Daniel Holland (@DannyDutch) November 14, 2019
What did you think? Creeped out? So were some people and check out their reactions on the video.
Aren't Babies Supposed to be Cute?
Thank you for destroying my belief that all baby animals are adorable. pic.twitter.com/VE7LaawfY7

— 🦃 Debbie Does Deep State 🦃 (@Exasper8ed) November 15, 2019
Aliens Have Been Using the Trick
Aliens do know by experience this owl trick works every time.😎

— 🦇🕸️🕯️🌏Abewust🌏🕯️🕸️🦇 (@aenergiebewust) November 14, 2019
They Are Aliens
Them shits are aliens.

— JerseyCraig 🏳️‍🌈 (@Jersey_Craig) November 15, 2019
I'm not positive that this is not actually an attempt to cover up a real video footage of aliens... 😱

— NeuroSyntheSys (@NeuroSyntheSys) November 14, 2019
Owls Are Scary
— The Guillotine Shouter (@guillotineshout) November 14, 2019
Giving Nightmares
How am I supposed to sleep tonight? 😂

— The Riddler (@ridl_luzahn) November 14, 2019
This is apparently a very old video from India itself. Well, we do not know the exact time but the conclusion remains that owls look creepy. Have you ever seen one yet? Maybe the next sight will make you wonder in extraterrestrials.