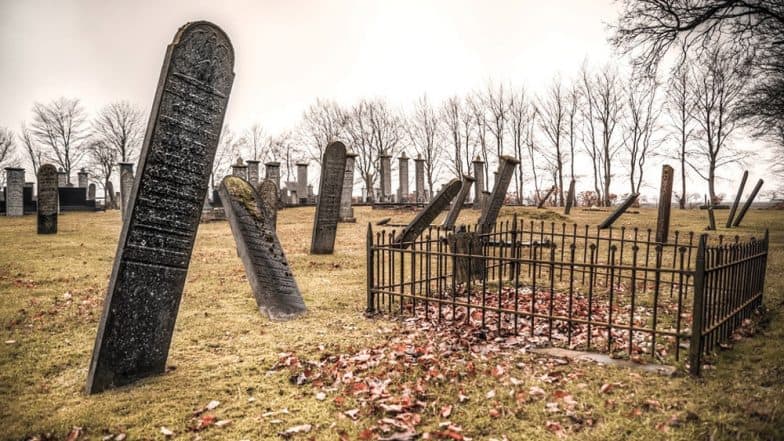 Visiting a cemetery to pay respects to those who have passed away is an emotional time for any person. But for Joanne Cullen it has turned into such a trauma that she cannot even think of visiting there again for some time. Cullen who went to visit her parents' grave at Long Island cemetery had such a terrifying experience when the sinkhole sucked her near the graves of her parents. She has now sued the St. Charles Resurrection Cemetery for $5 million for the injuries she sustained in the mishap. Son in Nigeria Buries His Father in Brand New BMW as a Mark of Honour, Locals Say it Has Navigation to Heavenly Doors!
Joanne Cullen had a real-life horror experience during this visit back in 2016. She bent down to fix the bow on the wreath of the tombstone when she felt she was being sucked into the earth. According to her case, a sinkhole formed and began to "swallow" her up. She sank almost till her hips into the grave. She fell forward and smashed her head on the tombstone, also resulting in a chipped tooth. She grabbed the sides of the tombstone but she sank into the ground underneath. The authorities have now got $5 million lawsuit in Queens Supreme Court. Are Ghosts Real? These Google Maps Street View Images Have Captured Some Creepy Faces, Watch Video.
The reason for this accident is said to be the uneven digging of the land here. The diggers left an underground void next to Cullen's parents' grave. It caused an air pocket above the graves which caused her to fall into the sinkhole. She visited the graveyard in the afternoon and there was no one around to even help her. She was clearly scared and gave her nightmares. Her lawyer was quoted to New York Post, "Getting sucked into your parents' grave when you go to visit them on a cool December afternoon with the sun going down … it's terrifying and traumatizing."
After the horrifying accident, she hasn't visited her parents' grave again. She sometimes goes for counselling to recover of that trauma. It is indeed bizarre and hopes the authorities learn from their mistakes.