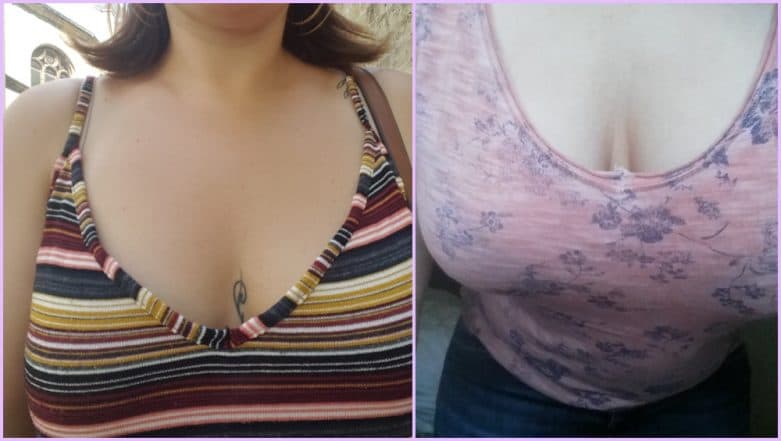 Women! Look down at your cleavage and say hello! A recent viral post by a French woman showed us why we should be proud of our bodies.  Celine B took to Twitter after she was insulted on the street by a stranger for wearing a V-neck top, she decided not to keep herself quiet. So, she clicked a cleavage selfie and shared it on social media, calling out the eve teasers and the guardians of "culture." Many women came out in support of Celine, posting pics of their cleavage with #ILoveMyCleavage. Priyanka Chopra Jonas Flashes a Hint of Cleavage in Electric Blue Jumpsuit!
In the viral tweet, Celine B, explained her recent encounter with a stranger, who just labelled her outfit as a "dirty w****" neckline. Clicking a selfie of her cleavage, Celine wrote, "So, according to the guy I just passed in the street, this top makes me look like 'a dirty w****'.. mate, my breasts and I say f*** you," as translated by Google Translator. Disha Patani and Kim Kardashian West Sizzle in Sexy Cleavage-Revealing Sequined Mini Dress. 
Here's Her Tweet
Donc .. d'aprés un type croisé tout à l'heure .. ceci est un " décolleté de sale pute " ... 🤔 .. Mec mes seins et moi on t'emmerde bien fort tu sais 😡🙄 pic.twitter.com/lObGJqbsHo

— célineb (@c3lineb) June 18, 2019
Women across the world who have had similar experiences also joined in support. With #JeKiffeMonDecollete (in French), translated as #ILoveMyCleavage, pictures began to surface on Twitter with women of all ages showing off their cleavage.
#JeKiffeMonDecollete Began to Trend on Twitter
Because we can wear every clothes we want without having to hide or having judgement 🤝 pic.twitter.com/deyyuPYsT4

— Cass 🤞 (@casshanod) June 23, 2019
Hello, Dear Cleavage!
Hopla #JeKiffeMonDecollete pic.twitter.com/Oo4Bs7yxWH

— Alyss 42 (@Calyss11) June 24, 2019
Have It, Flaunt It
#JeKiffeMonDecollete ma cope pic.twitter.com/c5O455IS18

— Bise To Kate... (@Jediscequejeveu) June 23, 2019
Missing a blouse button is not a big crime. But women in general have been conditioned into thinking that their bodies are something to be ashamed of rather something to take pride in. #ILoveMyCleavage speaks for all those women, who love to flaunt the beautiful skin they are in.