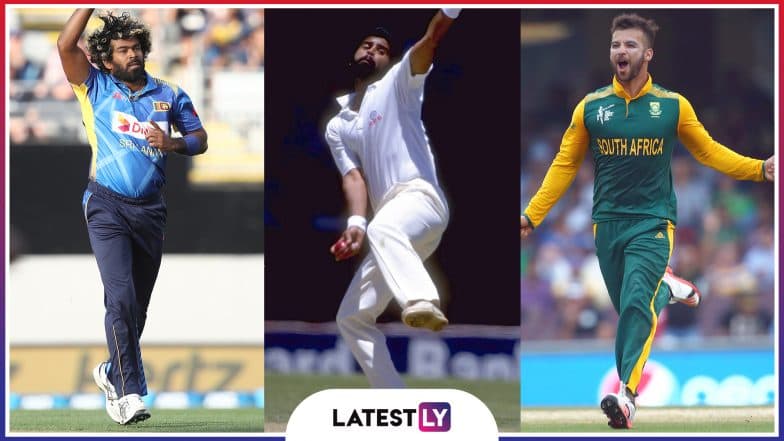 The ICC Cricket World Cup (CWC), 2019 is around the corner and many of us have already entered into that fever as the tournament is about to begin from May 30, 2019. The 12th edition of CWC is taking place for the 5th time in England and Wales. As we are heading near the World Cup (WC) tournament let us explore Hat-Tricks from WC which made history in cricket. Ahead of ICC Cricket World Cup 2019, Here's 5 Disheartening Moments From Cricket's Mega Tournament That Made Fans Emotional (Watch Videos)
Every bowler in International cricket desire to take a hat-trick. There is a saying that a five-wicket haul is the bowling equivalent of a batsman's ton, however, there is nothing in batsman can do in comparison to a bowler's hat-trick. Picking up 3 wickets in a row is itself a big achievement, but doing it on the biggest of stages is something that the bowlers can cherish for entire life. ICC Cricket World Cup 2019 Schedule in PDF: Ticket Prices, Dates, Venue Details & Timetable Available for Download Online.
Some of the famous Hat-Tricks from World Cup Tournament
1. Chetan Sharma vs New Zealand-Nagpur, Reliance World Cup , 1987
He is the first cricketer to pick up a hat-trick in World Cup tournament. Chetan Sharma achieved this feat against New Zealand in a group stage game of WC 1987.Sharma went on to dismiss Ken Rutherford, Ian Smith and Ewen Chatfield off three consecutive balls to become India's first hat-trick hero. Kiwis posted a total of 221/9 in 50 overs, in reply Indian team chased down the target of 222 with ease in 32.5 overs where Sunil Gavaskar scored an unbeaten 103 from 88 balls. After this hat-trick we had to wait for 12 more years for another one, as Pak bowler Saqlain Mushtaq took against Zimbabwe in ICC CWC 1999, which was followed by Chaminda Vaas from Sri Lanka against Bangladesh in World Cup, 2003. History of Cricket World Cup Trophy: Facts and Evolution of Cricket's Prestigious Title From Prudential to ICC (View Pics & Video)
2.Brett Lee vs Kenya- Durban, ICC World Cup 2003
This was a Super Six stage game of CWC 2003 in which Australia played Kenya. Aussie won the toss and opted to field first. Kenya posted a total of 174 runs which was chased down by Australia comfortably with 5 wickets in hand. Bret Lee took the second hat-trick of the WC 2003, the first one was taken by Chaminda Vaas of Sri Lanka against Bangladesh in the 10th match of ICC World Cup 2003. Lee's first victim was Kennedy Otieno, who got bowled by bails were dislodged after the ball ricocheted off his elbow. He then dismissed Brijal Patel, who gave catching practice to Ricky Ponting at slip and finally, he bowled a class yorker to sent David Obuya back to the pavilion. ICC Cricket World Cup 2019 Warm-up Matches Live Streaming in India: Get Telecast and Online Stream Details of CWC Practice Games in IST.
Brett Lee - Hatrick vs Kenya
3. Lasith Malinga vs South Africa, Providence, ICC World Cup 2007
This spell by Lasith Malinga will indeed always be the best by any bowler in WC tournament, as it will be difficult to break the feat achieved by Malinga where he took 4 wickets from 4 balls. South Africa was easily cruising towards victory while chasing 210. Proteas team score was 206/5 and with 4 more runs required for victory from 32 balls. Malinga dismissed Shaun Pollock,  Andrew Hall in the last two balls of the 45th over and went on to dismiss Jacques Kallis and Makhaya Ntini on the first two balls of 47th over. However, the South Africa team somehow escaped an unexpected defeat as Robin Peterson edged it to the boundary in 49th over. South Africa won that match by one wicket which could have been won way back easily.
Lasith Malinga 4 Wickets in 4 Balls in Cricket
4. Steven Finn vs Australia- Melbourne, ICC World Cup, 2015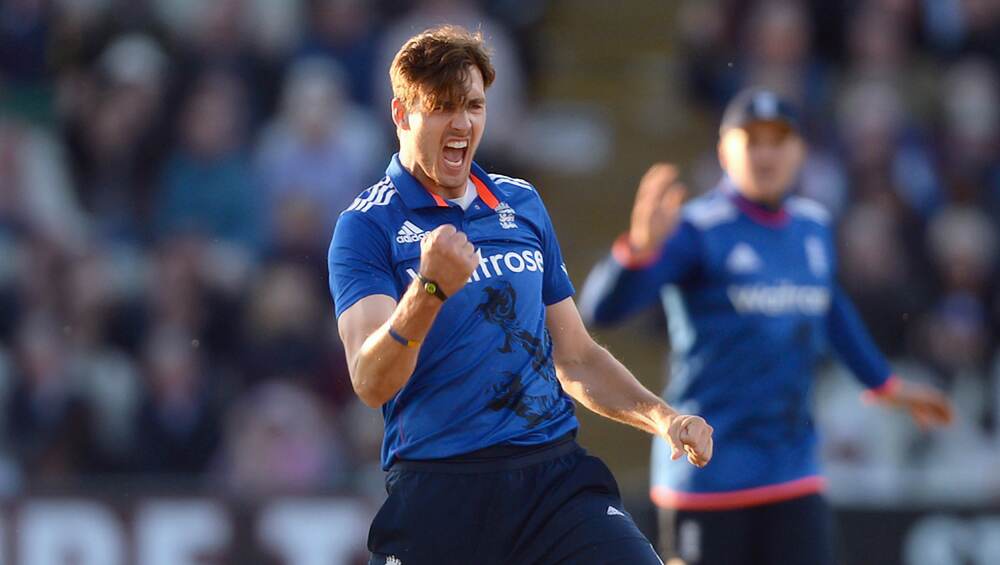 England team ended on the losing side in this match, Aussie team defeated them by 111 runs. Steven Finn had an expensive figure of 71/2 in 9 overs, however he wouldn't have imagined that he will give a memorable end to his spell by picking up hat-trick in his 10th over.  Finn dismissed Brad Haddin, Glenn Maxwell, and Mitchell Johnson who got out by giving catches in the outfield. Australia posted a target of 343 runs, in reply English side got all out to 231 runs. After picking up a hat-trick in this match, Finn became the first England bowler to take hat-trick in World Cup. Click here to view the view the video of Hat-Trick taken by Steven Finn in the last over.
5. JP Duminy vs Sri Lanks- Sydney, ICC World Cup 2015
This hat-trick by the Proteas all-rounder JP Duminy can be considered as the best hat-trick till date as it help his side win the crucial game against Sri Lanka in CWC 2015. South Africa played Sri Lanka in the quarter-final of ICC CWC 2015, where the duo spin attack of Imran Tahir and JP Duminy rattled through the Lankan batting line up to all out them for 133 in 37.2 overs. Duminy scalped three wickets, while Imran bagged 4 wickets. Sri Lanka were still in the game at the score of 114 for 4 with Angelo Mathews and Kumar Sangakkara were on the crease. However the 33rd and 35th over changed the course of the match where Duminy first dismissed Angelo Mathhews in the last ball of the 33rd over and Nuwan Kulasekara, Tharindu Kaushal on the first two balls of the 35th over. Sri Lanka decision of electing to bat after winning the toss proved to be ineffective as South Africa comfortable chased down the target of 134 runs in 18 overs to enter the quarter-final.
SL vs SA: Duminy gets SA's first WC hat-trick
The first match of ICC Cricket World Cup 2019 will be played between England and South Africa on May 30, 2019. The upcoming World Cup tournament will feature top 10 Test playing nations. The final of CWC 2019 will be played at Lord's on July 14, 2019.