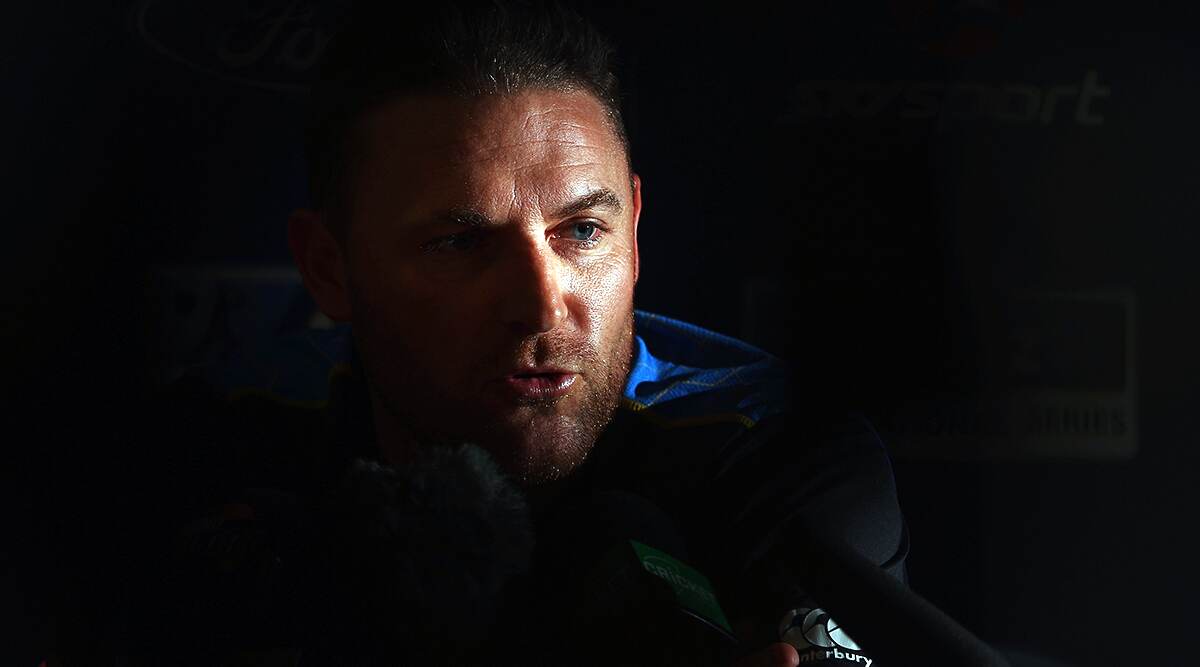 Brendon McCullum celebrates his 38th birthday. The former New Zealand skipper, who until his once deputy Kane Williamson repeated the feat, took New Zealand to its greatest heights in international cricket. It was under McCullum that the Black Caps appeared in its first-ever World Cup final and although it ended in a heartbreaking defeat at the hands of Trans-Tasman rivals Australia in 2015, McCullum's boys had successfully incorporated cricket into the hearts of many New Zealanders. From a young roughneck in a celebrated New Zealand team to an inspiring captain of a young bunch, who turned world-beaters.
Under McCullum, New Zealand excelled in all formats of the game. They were unbeaten in 13 Test matches at home, reached the 2015 World Cup final and were a fairly successful T20I team. The diminutive hard-hitting batsman called it a day just a little over a year after the 2015 World Cup final. McCullum's international career drew to an end against arch-rivals Australia, with the New Zealand skipper scoring a century on his swansong. As McCullum turns 38, take a look at five interesting facts about the former cricketer.
Caught & Bowled to Dismiss Sarfaraz Ahmed
McCullum only bowled two overs in international cricket and those were enough to fetch the former New Zealand cricketer his first and only international wicket. Current Pakistan captain Sarfaraz Ahmed was the batsman dismissed with McCullum's figures reading 2/1/1/1 (2 overs, 1 run, 1 maiden and 1 wicket). Sarfaraz Ahmed had scored a century and was set before McCullum had him caught and bowled in his only second over.
A Pair of Boots, Rugby and Cricket
McCullum's failure to find a pair of boots ended up in him choosing Cricket over Rugby. Like most cricketer in New Zealand, McCullum harboured the dream of representing his country in the nation's number one sport: Rugby. He was good enough to keep Dan Carter – Rugby player and Current All Blacks star – out of the school team.
McCullum was 20 and had already played for New Zealand in age-group cricket when he was selected for a Rugby match. A young McCullum searched for a pair of boots to borrow everywhere but couldn't find. Myth has it that Richard Hadlee, a New Zealand cricket legend, made phone calls with a message, "Don't give the boots." McCullum was given the option of choosing the Black Caps or All Blacks; he chose cricket.
Class of 2000
The U19 World Cup held in Sri Lanka played hosts to several future international stars. From Yuvraj Singh, Mohammad Kaif, Shane Watson, Ian Bell, Shoaib Malik, Mitchell Johnson, Mohammad Sami, Shaun Marsh and many more to future captains Graeme Smith and Michael Clarke. Among all these players were also the McCullum brothers: Brendon and Nathan. Many of these cricketers, including McCullum, went on to transform cricket and depart as legends of the game.
Fastest fifty At the Cricket World Cup
The world may have witnessed a Gayle storm, a Martin Guptill mayhem, two Virat Kohli classics, Sachin Tendulkar, Steve Smith and Rohit Sharma's unstoppable hundreds at the grandest stage of cricket – the Cricket World Cup. But McCullum still holds the record for the fastest 50 at the World Cup. The dashing Kiwi opening batsman first hit a 20-ball fifty against Canada in 2007, a World Cup record then. But McCullum returned eight years later to reset the record and this time smashed half-century in just 18 deliveries. The record to date stands to his name.
Strange Ishant Sharma Connection
Brendon McCullum, along with Alastair Cook and Michael Clarke, has a strange connection with Indian international and veteran fast bowler Ishant Sharma. Interestingly, all three batsmen, en route their individual highest scores in Test cricket, were dropped by Sharma before registering their personal best. The Test highest scores of all three batsmen have also come against India.
Cook, who made his highest Test score at Edgbaston in 2011, was dropped by Ishant mid-way through his innings of 294 runs, the former England skipper's career-best Test score. Similarly, Clarke was dropped by the Indian medium pacer even before the Australian had completed his triple century, which remains the Australian captain's first and only Test triple ton. Clarke went on to make 329 not-out and played with India's dream of a series victory on Aussie soil.
McCullum scored his highest Test score at Wellington in 2014. This mighty innings of 302 helped not just rescue New Zealand from a precarious situation but also set on way for a big victory. But like his two counterparts, McCullum was dropped by Ishant even before completing his third hundred. The Black Caps batsman eventually perished but not before registering his highest ever individual Test score.