India were favourites to be one of the finalists of Unimoni Asia Cup 2018, and after a roller-coaster ride in the multination tournament, the Indian team has made it to the final. India will be playing against Bangladesh in the 2018 Asia Cup final on September 28. The match is scheduled to take place at Dubai International Stadium. Bangladesh's Road to Asia Cup 2018 Final: A Topsy-Turvy Ride for Mashrafe Mortaza's Bangladesh Tigers Before They Face India in Final.
India won both their Group A matches against Hong Kong and Pakistan. In the Super Four round, India defeated Bangladesh, and Pakistan again. Against Afghanistan, India decided to rest five key players and paid the price as the match eventually ended in a tie! Asia Cup 2018 Final: Here's What Happened When India and Bangladesh Met in Asia Cup 2016 Final (Watch Video).
As India is set to play the Asia Cup final against Bangladesh, twice in the last two editions, we take a look at India's road to Final.
Group A, Match 1: India vs Hong Kong, September 18
India played their tournament opener against Hong Kong. After being asked to bat first, Shikhar Dhawan hit a scintillating century, as he scored 127 runs. Ambati Rayudu scored a valuable half-century which India post a total of 285 runs on the board.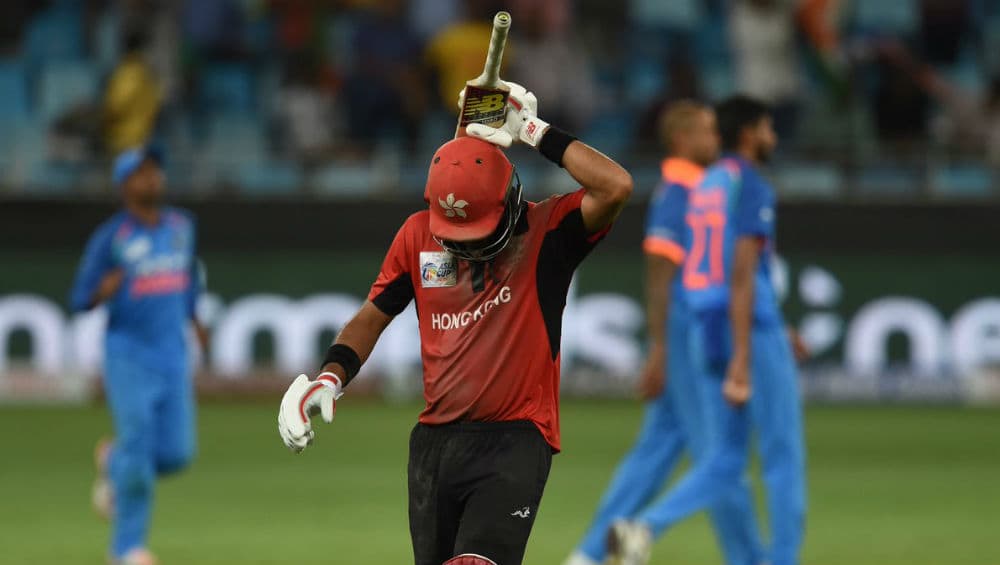 In their reply, Hong Kong got off to a terrific start as their opening pair of Anshuman Rath, and Nizakhat Khan added 174 runs for the opening wicket. The match seemed to be a lost cause before Indian bowlers – Khaleel Ahmed, Yuzvendra Chahal, and Kuldeep Yadav – pulled back things, just in time. India eventually held their nerves and won the match by 26 runs.
Group A, Match 2: India vs Pakistan, September 19
There were a lot of controversies before the match, given that India had to play back-to-back games in the tournament. However, once the match started, everything else took a backseat.
Pakistan won the toss and elected to bat first. The decision proved to be wrong as Indian bowlers wreaked havoc on the Pakistani batting line-up. The team folded on paltry 162 runs.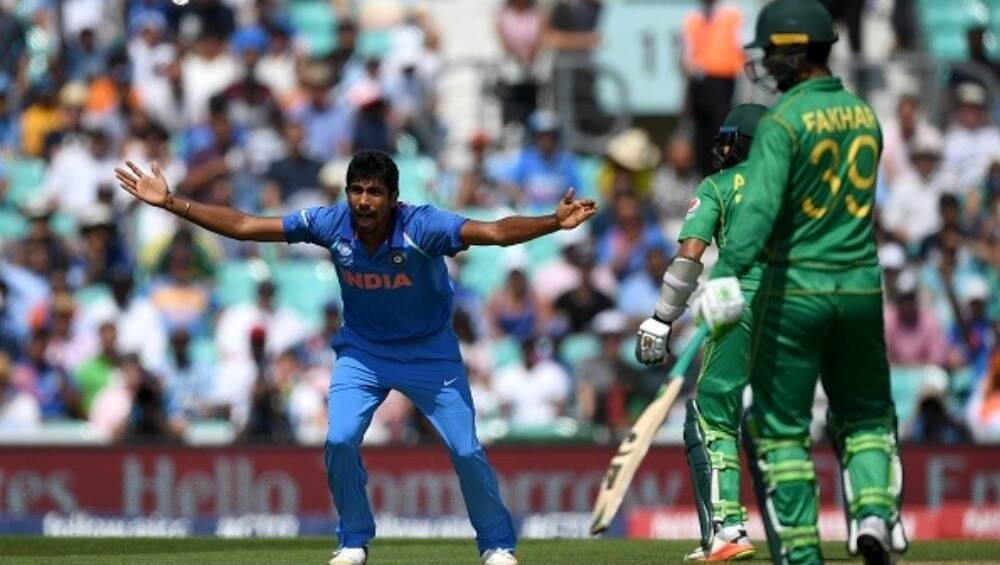 In their reply, the Indian got a solid start with Rohit Sharma scoring a half-century. Significant contributions from Shikhar Dhawan, Ambati Rayudu and Dinesh Karthik ensured that India won the match by eight wickets.
Super Four, Match 1: India vs Bangladesh, September 21
After topping the Group A, India defeated Bangladesh in their first Super Four round match too. Rohit Sharma won the toss and elected to bowl first, and rightly so, as the Indian bowlers bundled out Bangladesh for only 173 runs. Ravindra Jadeja, who was making his comeback, took four wickets.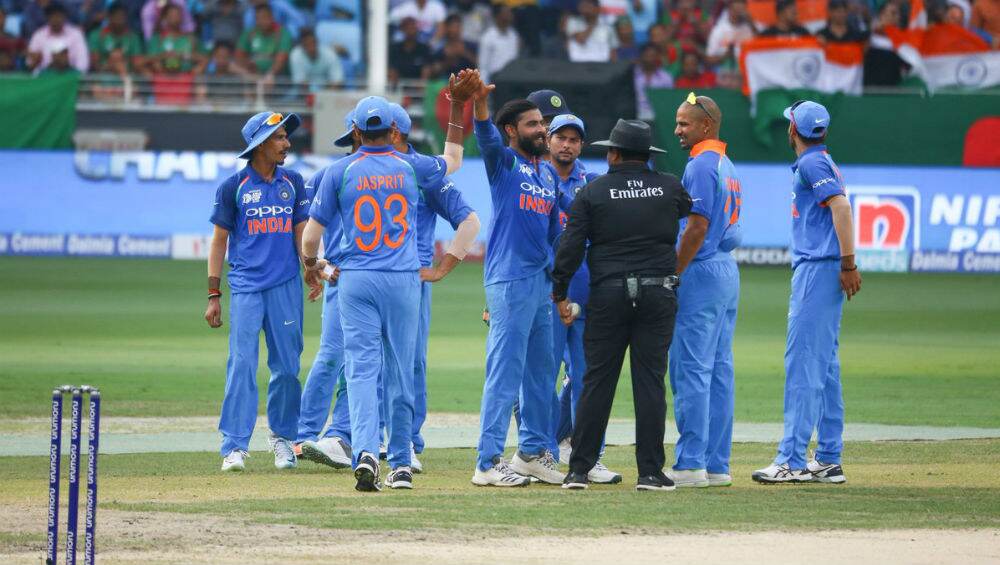 In their reply, Rohit Sharma again scored a half-century, and essential contributions from Shikhar Dhawan and MS Dhoni saw Indian team cruise to victory with ease. India won the match by seven wickets.
Super Four, Match 2: India vs Pakistan, September 23
It was a delight for fans to witness India vs Pakistan match, twice in the same tournament. Indian bowlers continued their sublime form in the match and rolled out the Pakistan team for only 237 runs.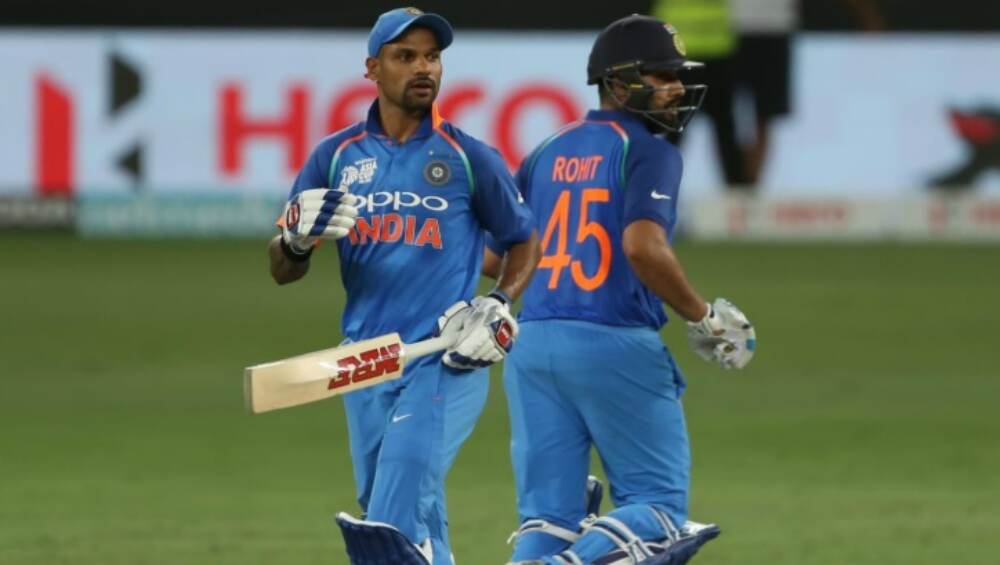 In their reply, Shikhar Dhawan and Rohit Sharma, both scored centuries. Rohit Sharma remained unbeaten in the match on 111 runs. Shikhar Dhawan was adjudged player of the match for his inning of 114 runs.
Super Four, Match 3: India vs Afghanistan, September 25
It was considered to be a one-sided affair. India rested five of their key players. Afghanistan sprang a surprising performance against the Indian team, and the match ended in a tie. MS Dhoni returned as India's captain; however, it was Afghanistan who won the toss!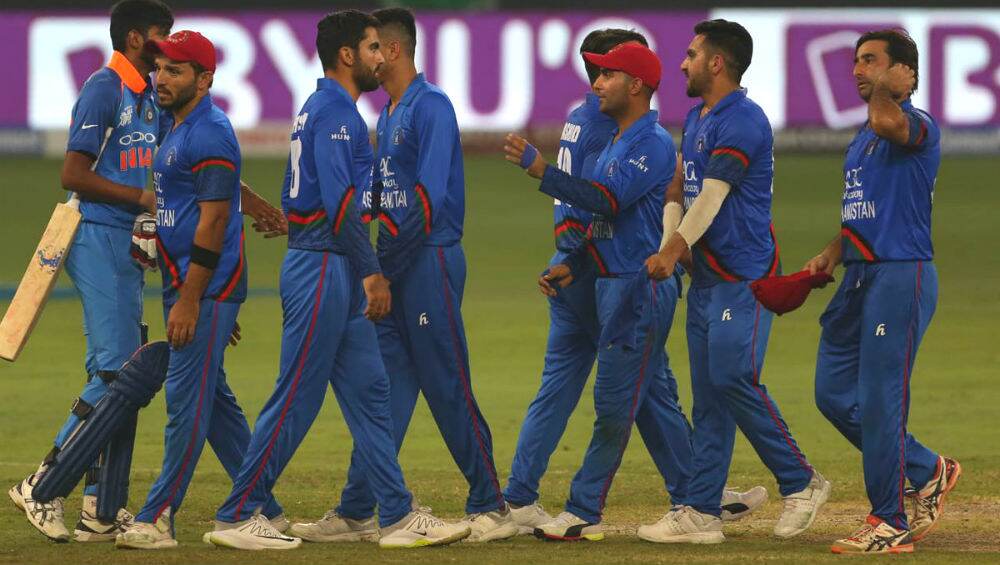 Asked to bowl first, the Indian bowlers looked hapless against a rampant Mohd. Shahzad who went on to score 124 runs. Mohammad Nabi provided amiable support with a half-century as they set India the target of 253 runs.
In their reply, KL Rahul and Ambati Rayudu both scored half-centuries, and the opening stand was of 110 runs. Karthik scored 44 runs, and was the only batsmen in the middle order who scored significantly. A similar collapse of yesteryear turned into reality and a brain fade moment, in the end, saw the match ending in a tie!
Watch India vs Bangladesh, Asia Cup 2018 Final Match Video Preview:
Both India and Afghanistan had a tumultuous ride in the tournament, in the lead up to the Asia Cup 2018 final. However, what matters is how they perform on the doomsday. As the match is set to be played in less than 24 hours, it is a matter of time to know who will be the Asia Cup 2018 champion!