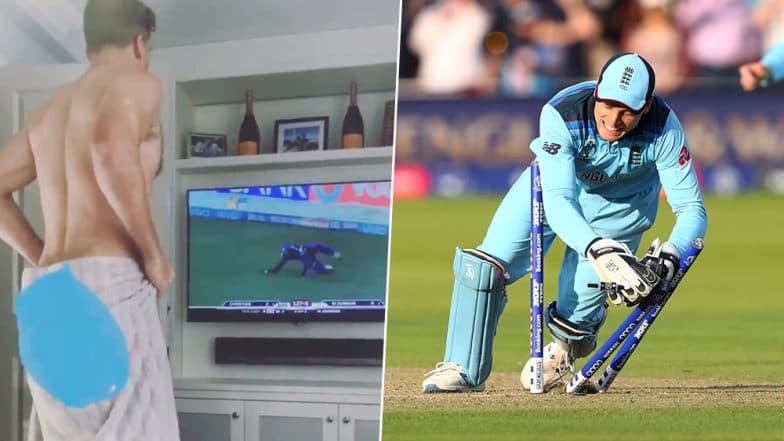 England wicket-keeper Jos Buttler removed the bails on final ball of the super over during New Zealand vs England ICC Cricket World Cup 2019. This led to England bagging the World Cup trophy for the first time. The situation was tense, however, Buttler was already prepared for his work as he was well aware of such a situation. A video of Buttler watching a similar incident of an IPL match has come up on social media. In the video, Buttler is watching the video in just towel and after witnessing the run-out on the very last ball, he also misplaces his towel in excitement and dances half-naked. Have a look at the video below. Streaker Elena Vulitsky Attempts to Steal the Show During NZ vs ENG, CWC 2019 Finals to Promote Son's XXX Website 'Vitaly Uncensored'.
Excitement Level - Infinity!
Managed to keep his nerve @josbuttler coz he had seen @parthiv9 perform the same play from his hotel room two years ago.#CWC19 pic.twitter.com/VTvGUxfAOI

— cricBC (@cricBC) July 14, 2019
The video is reported to be two years old shot from a hotel room of Buttler. The England wicket-keeper is watching the IPL 2017 final, in which Mumbai Indians won the match on the last ball owing to a run-out. Rising Pune Supergiants needed four runs off the last ball but Parthiv Patel collected a throw and dislodged the bails to claim a run-out after two runs were completed. MI won the title by just one run. In the same manner, Buttler too dislodged the bails yesterday on the final ball to bag victory for hosts England in World Cup 2019 final. Eoin Morgan Calls Cricket World Cup Win An Incredible Journey After England Beat New Zealand in ICC CWC 2019 Final. 
The CWC 2019 New Zealand vs England final was tied after England could only score 241-8 and remained one run short for victory. The match went to the super over which also saw the Eoin Morgan and Kane Williamson sides scoring 15 runs each. However, since England hit more number of boundaries in the match, they were declared winners of World Cup 2019 as per the rules of a super over scenario.