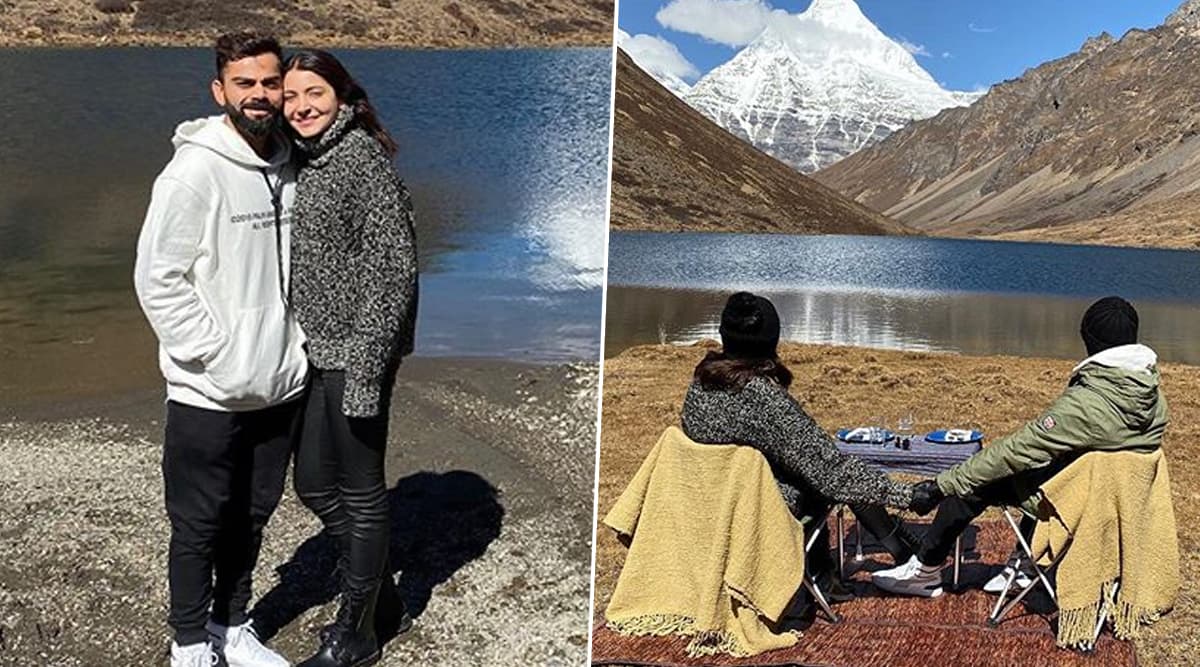 Virat Kohli shared a lovely photo with wife Anushka Sharma from his Bhutan trip. The Indian skipper has been rested from ongoing India vs Bangladesh T20I series 2019 with Rohit Sharma as stand-in skipper. Kohli turned 31 years old on Tuesday and he went to a visit to Bhutan with his ladylove Anushka as a part of his birthday vacation. The couple is having a great time in the hilly country and both have also shared amazing and beautiful photos from their trip. The romantic photos of the couple are surely giving us couple holiday goals. Now, Kohli shared another photo on Instagram on Thursday. Virat Kohli 31st Birthday Special: Journey From Rookie to One of India's Finest Captains. 
In the photo the couple, popularly known as Virushka among fans, were seen sitting near a river which was covered by mountains at the front. In another photo, both stood together facing the camera in a romantic pose. The lovely photos absolutely revealed the beauty of nature the couple is witnessing during their trip. "When you get a chance to come close to the beauty of nature, thoughts cease and you become one with the moment and merge with the divine energy. So grateful", Kohli wrote along with the post. Have a look at the post below. Anushka Sharma Claims to be a Coffee Girl, but her Old Tweet Has a 'Tea' Twist!
Beauty and The Couple!
Kohli had earlier shared another photo on his 31st birthday, in which he was seen enjoying breakfast with Anushka. The couple were seen sitting near a plateau, with cups of their morning coffee in their hands. Anushka had also shared some photos from the Bhutan trip on her Instagram profile. Below have a look at the Virushka's earlier posts below.
Food in the Mountains!
Lovely Couple!
Kohli has been rested in the T20I home series against Bangladesh, in which the visitors are leading 1-0 currently. The 2nd T20I is set to be played in Rajkot today. Kohli will be back as skipper for the two-match Test series, which will start with the first Test on November 14.