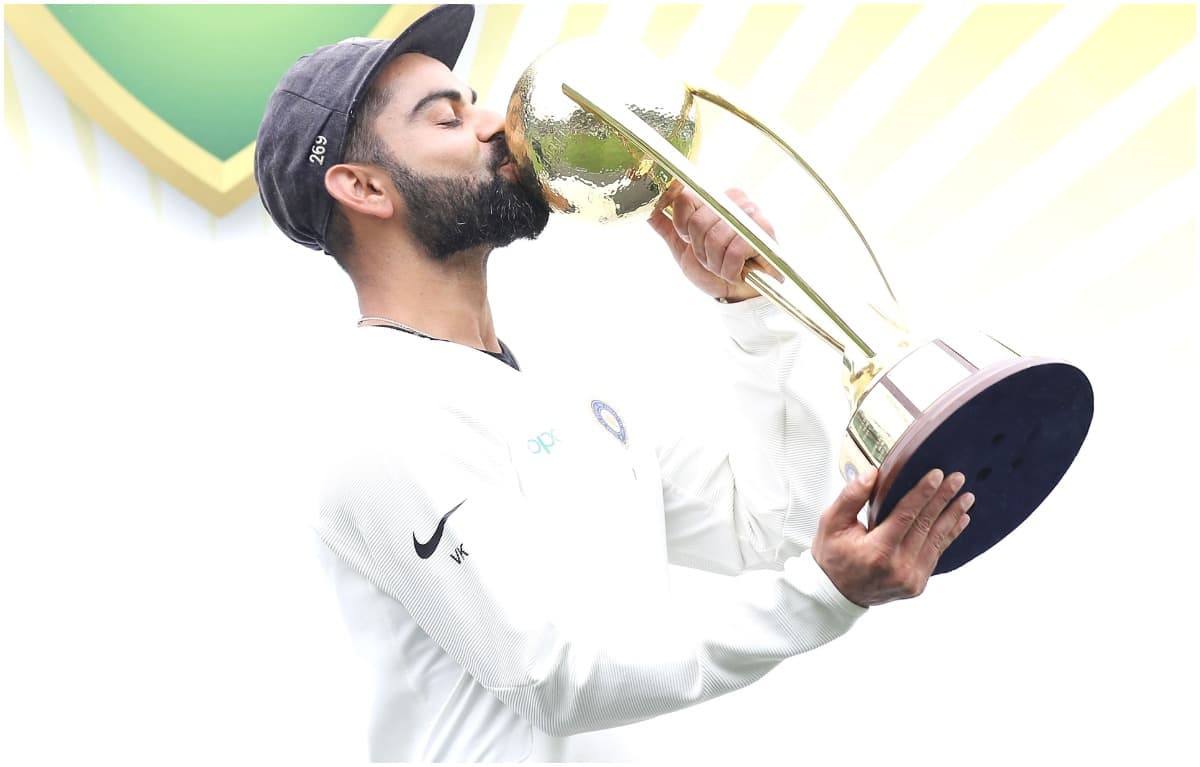 "He's carried the burden of Indian cricket on his shoulders for 24 years. It's time we carry on ours," said Virat Kohli, carrying Sachin Tendulkar on his back – with a little help from Suresh Raina – after India's incredible World Cup win at home in 2011. You could tell that Kohli, who celebrates his 31st birthday on November 5, 2019 (Tuesday), was blooming into a leader. The praise he had reserved for Tendulkar showed a maturity beyond his age. Kohli was 23 when India under MS Dhoni lifted its second 50-over World Cup. And that is Kohli, who has often been accused of being immature, expressing and imposing himself too much on others and always being over-enthusiastic. To sum up, he's a bit "too much" in everything. Virat Kohli Writes a Heart-Felt 'Note to Self' on His 31st Birthday, Teaches His Younger Self 'Chiku' About His Journey and Life Lessons.
Fears loomed large that his "excessiveness" might play into his teammates when in 2014, with Dhoni's retirement, Kohli was appointed the Test captain and again with Dhoni's retirement from ODI captaincy in 2017, he was appointed India's captain in all formats. That he will be aggressive, more demanding, charged up and always on the opposition's face, was a given but the question was what more can Kohli the "captain" bring to the table. Happy Birthday Virat Kohli: Five Remarkable Knocks by the Indian Run-Machine.
Virat Kohli's state and national teammate, Shikhar Dhawan used the exact words – "aggressiveness" and "charged up" – to describe Kohli when he was about to captain India for the first time in Australia, 2014. "He's a different captain than Dhoni bhai," Dhawan added. Virat Kohli Birthday Special: The Indian Skipper has an Uber Cool Wardrobe and We are all Hearts for it (View Pics).
No one knew back then what could Kohli be as an Indian Captain other than one notion - he would be a world apart from Dhoni. Of course, he had Under-19 World Cup triumph as a case in point if anyone was interested in knowing his captaincy mettle. But that boast diminished to three first-class matches when the question came to leading a senior team. Kohli could still talk of leading the Indian team in the West Indies and Zimbabwe in 2013 but that was in the ODIs. And this here was Adelaide, in a Test match, in Australia, where opposition captains lose their jobs, least being appointed. Virat Kohli Birthday Special: From Wife Anushka to Mom Saroj, Here Are Lovely Photos of The Indian Captain With Family.
At Adelaide, he played Karn Sharma ahead of the more favoured Ravichandran Ashwin. Karn finished with figures of 238/4 in the entire match and in the same pitch where Australia's Nathan Lyon took 12 wickets. It was clear that Kohli wouldn't walk the Dhoni way. He was more keen on winning. Ready to risk a defeat to taste victory. But Karn Sharma was a disastrous decision. What did it speak for a skipper two-match short of taking over the reins permanently?
Dhoni retired from Test cricket two days before 2015 and a new year ushered a new era in Indian cricket. Australia won that series 2-0, having encountered two different Indian captains – One a strategist, master tactician that believed more on the process and groups. Another, pragmatist, a flawed leader seeking perfection, shooting decisions like a gun which has lost control and fires in auto mode.
Virat Kohli Workout & Vegan Diet That Has Made Him the Most Athletic Cricketer
Bangladesh came next, followed by Sri Lanka and Kohli the captain trumped both. But his batting master class in the historic series win in Lanka shadowed his error-prone captaincy. From pointless bowling changes to bowling changes making no point. Most decisions Kohli took was erring, but the worst of them was Kohli and his team management dropping Cheteshwar Pujara for Rohit Sharma. Both are 'irreplaceable' now as things stand on Kohli's 31st birthday – the latter at least for the time being. But at the start of Kohli's captaincy, he preferred Rohit more and Pujara wasn't even considered for the top five – a decision Kohli later said was wrongly measured.
But those decisions aside, Kohli always seemed focused. He craved for victories. At the start of his captaincy, Kohli always came across as someone, who needed a shoulder to lean on for decision-making – like MS Dhoni in then Indian limited-overs side or an AB de Villiers for RCB in the IPL – but with time he has become more self-assured as a captain, learnt the nuances of making calls without disrupting the momentum of his team. With him as their leader, India blanked South Africa 3-0 at home in 2015, even as Dhoni's limited-overs side lost to the same Proteas team in the ODI and T20I series.
Kohli's captaincy in Test cricket rubbed in his batting across all the formats where suddenly he played with more responsibility. He was shouldering the burden of being India's most dependable batsmen across formats – a role he played to perfection without letting it take a toll on him. Through letting his bat talk, Kohli was burgeoning as a limited-overs captain for India as Dhoni's era slowly began to fade. Dhoni's tactics – both in batting and captaincy – seemed medieval. His approach to games, wonted. And there was Kohli fresh and ultra-modern. His success in the short career of Test captaincy promised so much in the much-more entertaining ODIs and T20Is.
ODI captaincy for Kohli finally came in 2017 when Dhoni decided to call it quits as captain early in 2017 before the England series at home. By that time, Kohli's India had already won in West Indies, clean-swept New Zealand and blanked England 4-0 to go on top of the ICC Test rankings, where they have – apart from a brief period of being second to Pakistan – remained despite series losses to England and South Africa last year. Kohli started his tenure as a full-time captain with a century against England. India then was, however, a Dhoni-run team with most players – including Kohli – making their debut and nurtured by the Indian legend.
Happy Birthday Virat Kohli: 7 Unknown Facts About the Indian Captain As he Turns 31
And it wasn't until that humbling 180-run defeat against Pakistan in the final of the 2017 Champions Trophy, that Kohli rung the changes. R Ashwin and Ravindra Jadeja were shown the door for a pair of crafty wrist-spinners Yuzvendra Chahal and Kuldeep Yadav. Fitness and fielding were suddenly an Indian player's most basic ingredient. Kohli slowly shaped the team in his image – Aggressive, impactful soldiers always at war, with the opposition and within themselves. Ready to overcome challenges, ready to make challenges.
His vision as captain? Simple – Win. No problem in dying or losing while chasing a win. Maybe the mantra only works in limited-overs, maybe someday Kohli will learn that a draw – apart from winning is also an achievement in Test cricket. And now with the ICC World Test Championship, a draw counts for more than just a four-letter word and two teams realising that win is improbable and therefore it is better to save breath for more action somewhere else on some other date.
Learning and growth as a captain "is very gradual" said Kohli at the launch ceremony of ICC Cricket World Cup 2019. "The errors you would make when you are not that aware of game situations, they will slowly start to taper off as you play more and more cricket." Appointed the new captain of Indian ODI team, Kohli jumped the gun on Ambati Rayudu, as his de facto No 4 for the World Cup. One series before the tournament, KL Rahul was India's first choice for the no 4 batting position, with Rayudu now dropped out of the team and eventually not included in the final 15-member squad for CWC 2019.
"Sometimes instinctively I would want to do something, which I will stick to, sometimes you go and discuss. It is important to try and make the right decision, but own up to your mistakes and accept the errors as well," added Kohli at the same event. He's learnt his decisions hard and through the tough route.
He is still error-prone as a captain like most captains. Like Dhoni and Ganguly were and before them Ajit Wadekar and Kapil Dev were. But in his still raw nature, which will be polished in time, Kohli sits in the company of elites. He will "gradually" learn that great teams of Clive Lloyd, Steve Waugh and Ricky Pointing won more but also lost less. Maybe he will value a "draw" more.
But by the simple statistics of winning a series in Australia and Sri Lanka – only Indian captain to do so – winning Test matches in South Africa and England and giving both teams a run for their money and above all leading the country to 11 successive Test series victories – he captained in eight of those 11 series wins – on home soil, Kohli ranks among the best captains of modern era. His record of 58 wins from 80 ODIs, which includes series wins in Australia, New Zealand, South Africa, Sri Lanka and West Indies, is just as phenomenal as his success rate in Test cricket.
He is still far from joining the company of the greatest captains, that's a bridge he will traverse with time and success. But for now, he has truly transcended from a rookie to one of India's finest captains. When they talk of captains in the modern era, they will talk of Virat Kohli – among other captains – the Indian captain. Captaincy is just a 'C' in front of your name, said Kohli following India's thrashing Test series win against South Africa. The world now keeps repeating the 'K' word ahead of Kohli. Happy Birthday Virat 'King' Kohli.