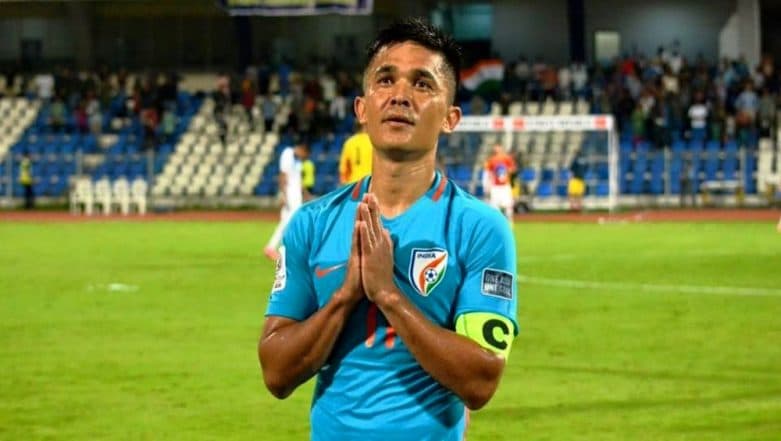 Sunil Chhetri overtook Lionel Messi to become the second-highest international goal-scorer after Cristiano Ronaldo among the active players. The Indian football team captain scored a cheeky panenka penalty to achieve the milestone before adding a second against Tajikistan in the Intercontinental Cup on Sunday. Sunil Chhetri Surpasses Lionel Messi: Indian Football Captain Says, 'Never Thought of Playing So Many Games for India in My Wildest Fantasies.'
The goal was Chettri's 69th international goal for India and took him past Messi, who has so far scored 68 goals in 136 appearances for Argentina. Chhetri from 109 games has 70 goals. Portugal skipper Ronaldo has scored 88 goals from 158 caps. The 34-year-old is also India's highest capped international player. Chhetri scored twice in the first half but India fell to a 2-4 defeat against Tajikistan in their first match in the Intercontinental Cup.
Sunil Chhetri Overtakes Lionel Messi
Cometh the hour, cometh the man 🔥🙌🏽

▶️1️⃣ @Cristiano

⬆️2️⃣ @chetrisunil11

⬇️3️⃣ @TeamMessi

🇮🇳1-0🇹🇯 #INDTJK #BlueTigers #IndianFootball #BackTheBlue #HeroIC pic.twitter.com/HI6iFKmmnB

— Indian Football Team (@IndianFootball) July 7, 2019
"Never, not even in my wildest fantasies, I thought that this would happen to me. Playing for my country the very first time was so enjoyable, memorable and nothing less than a great honour. But, I never thought that I would go on to play so many games and score goals for India," AIFF quoted Chhetri, as saying.
"I am blessed to have played the game with the best of the teammates-both for all my clubs and Country. Both in Bengaluru FC and India, everyone helps me out. They support me and that is very important. I just try to continue doing the best for the team and the result follows," he added after becoming India's highest capped international.