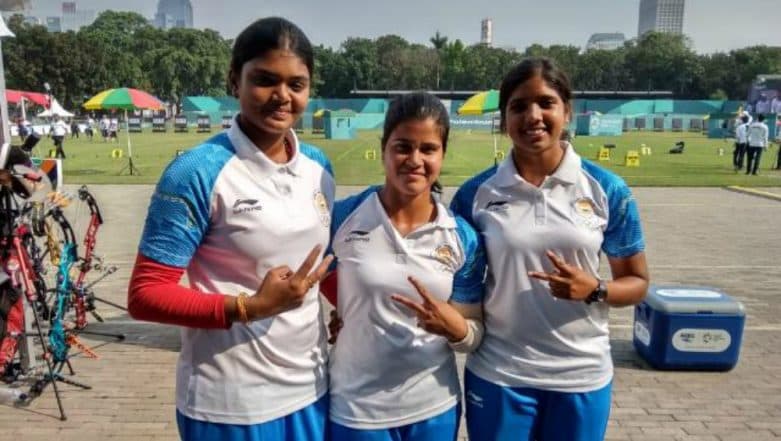 The Indian women's team of Muskan Kirar, Madhumita Kumari and Jyothi Surekha Vennam settle for silver medal after losing to South Korea's Bomin Choi, Chaewon So, Yun Soo Song in the Compound Women's Team gold medal match 231-228 on Tuesday. With this India's medal tally touches 42 including 8 gold, 14 silver and 20 bronze. Indian men's compound team will take on South Korea in the gold medal match later in the day. Catch Asian Games 2018 Live News Updates Day 10 Right Here.
Earlier, the group had beaten Indonesia's Sri Ranti, Yurike Nina Pereira and Dellie Threesyadinda 229-224 in a pre-quarterfinal clash. The Indians lost the first set 56-57 before winning the second at 58-56 to take a one-point lead. They again went down in the third set 56-57 but a brilliant performance in the fourth and final set saw them win 59-54.
In the semi-final, India defeated Taiwan's Liju Chen, Yihsuan Chen and Mingching Lin 225-222. Despite being at the receiving end in the first two sets at 55-58 and 55-57, the Indians made a brilliant comeback in the last two sets to win 57-55, 58-52. (Inputs from IANS).