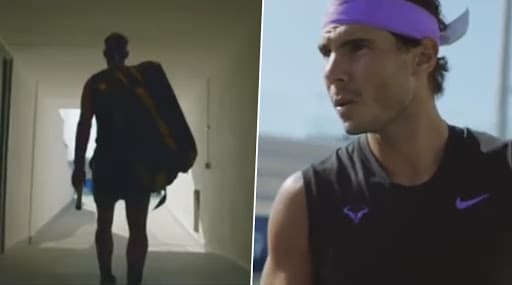 Rafael Nadal, who ended the year as World No.1 Tennis player,  shared a video on Instagram about his journey in the tennis world. He started his career eighteen years ago as a fifteen-year-old and now is one of the most celebrated names in tennis history. The Spaniard finished this calendar year as the world number one after ATP released its season closing-rankings on Monday (November 18). This was the fifth time that Rafael Nadal has finished the year as world number one, drawing level with other superstars like Roger Federer and Novak Djokovic, and moves one behind six-time end-of-year number one Pete Sampras. Rafael Nadal Ends Year as World No-1 For Fifth Time in Career, Shows ATP Latest Rankings.
The Spaniard shared a video on his Instagram about his journey and also expressed his gratitude towards the ones who encouraged him for so long. '15 years is easy to say but, the reality is, there is a lot of effort behind each and everyone.' Nadal captioned his post. World Number 1 became a Kia brand ambassador for the Spanish market in 2004 at just 17 years of age. The perennial partnership was later strengthened in 2006 when the Spanish tennis player was named as the global ambassador for the Kia brand. Nadal, in the video also thanked Kia for supporting him in his career for over a span of 15 years. Davis Cup 2019 Finals: Rafael Nadal Beats Karen Khachanov; Canada Enter Quarter Finals.
See Post!
Rafael Nadal is currently representing his country Spain, in Davis Cup 2019. The Spaniard recently defeated Karen Khachanov 6-3, 7-6(7) and helped his team to clinch the Group B round-robin match. Nadal improved his Davis Cup record to 25-1 after losing his 25th consecutive Davis Cup match. He lost the first Davis cup match he played in 2004 against Jiri Novak of the Czech Republic. Spain can reach the quarter-finals on Wednesday by beating Croatia, who axed Captain Zeljko Krajan two days before their opening tie and will be without injured starman Marin Cilic.