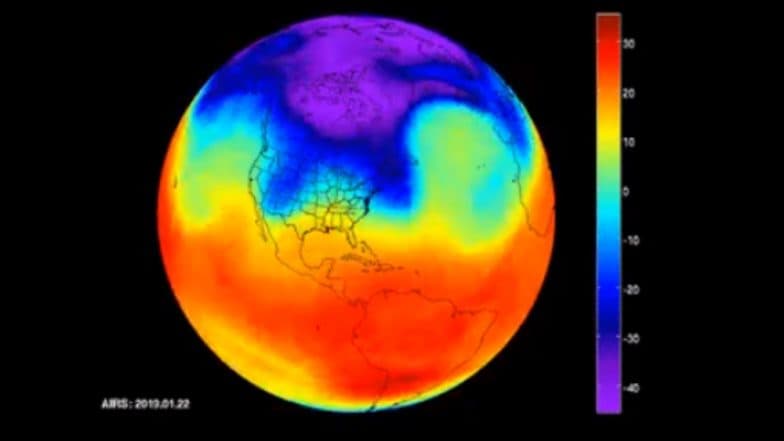 The world is only talking about the frigid temperatures at the Midwest that have put part of the United States into a halt. An unusually cold Arctic air mass called a polar vortex is responsible for the severe weather in the areas forcing the temperature to plunge below zero degrees Fahrenheit. You do not really have to live in the US Midwest to have heard about the polar vortex. The situation is very severe in those areas. A new video by the National Aeronautics and Space Administration (NASA)'s Atmospheric Infrared Sounder (AIRS) on the Aqua Satellite shows a visual depiction of the dramatic and deadly cold snap. Good Samaritan Pays Hotel Bill of 70 Homeless People in Chicago's -32 Temperatures After Their Warming Propane Tank Burst!
So far, you have come across the pictures and videos that are everywhere on social media displaying the current life in the United States. The chilly weather has been blamed for several deaths. But NASA's quick GIF will give you a clearer glimpse of the mass of arctic air. The clip demonstrates the polar vortex as it moved southward from central Canada into the US Midwest from January 20 to January 29. Polar Vortex Turns Woman's Wet Hair Into Ice As Cold Cripples the Midwest. 
Watch Video of Polar Vortex Moving Across the US
#PolarVortex as seen by @NASA's Atmospheric Infrared Sounder (AIRS). The Arctic air mass moved southward from central Canada into the U.S. Midwest: https://t.co/RtCnWNjoW7 #PolarVortex2019 pic.twitter.com/7iazXtspFD

— NASA JPL (@NASAJPL) January 31, 2019
NASA explained that the lowest temperatures are shown in purple and blue and range from -40 degrees Celsius to -23 degrees Celsius. As the data series progresses, you can see how the coldest purple areas of the air mass scoop down to the United States.
The Aqua Satellite was launched in 2002. NASA's Jet Propulsion Laboratory manages the AIRS and AMSU instruments in Pasadena, California. AIRS is capable of producing detailed heat maps over a vast geographical area. NASA used this equipment to monitor the change in temperature that is created by the polar vortex. Meanwhile, it is reported that the Midwest is expected to gradually warm back up over the next few days and return to temperatures more similar to what the residents would expect for early February.