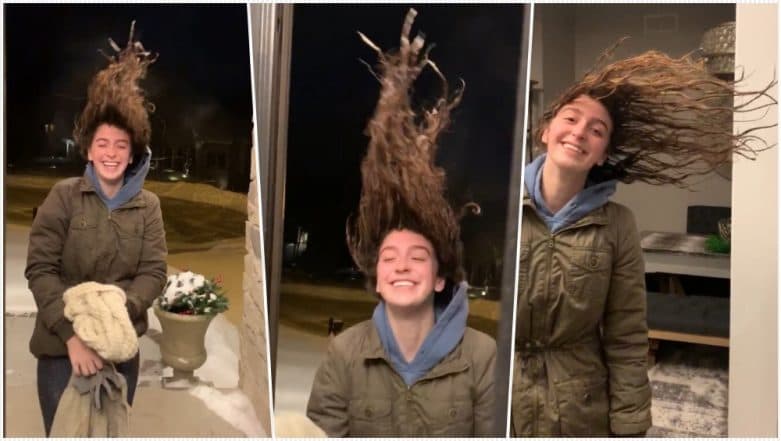 A polar vortex is putting parts of America in deep freeze these days. The frigid temperatures have put the regular activities into a halt. Cold temperatures are not new in these regions at the United States of America. But the severe chill this week is only surprising the citizens. Social media is filled with cold-weather photos and videos, and the netizens just cannot get enough of it. At recent, shocking footage shows the moment when a woman's hair turned to ice after she stepped outside into freezing conditions in the US state Iowa. It now seems that the temperatures in the Midwest are hair-raising! Here's How -50 Degrees Feels Like in Chicago and Other Cities in the US. 
The short clip shows the woman identified as Taylor Scallon, walking into a house and laughing after she stepped out into the chilled conditions with wet hair. Her hair can be seen standing tall above her head. The video was posted on Twitter with the caption, "Is Iowa really THAT cold?" And it has since gone viral with many responses and shares surfacing on Twitter. What Happens To Human Body At -50 Degree Celsius and How To Avoid Hypothermia?
Watch Hair-Raising Video
"Is Iowa really THAT cold?" pic.twitter.com/htxSZzy2QB

— Taylor Scallon (@taylor_scallon) January 31, 2019
Although, the video appears to be light-hearted, the situation in these regions is not. Several parts of the United States are facing temperatures colder than Antarctica after the polar vortex sweeps over the nation. Many cities have been forced to shut down as the US officials have urged the public to stay indoors. The wind chill in the Hawkeye State dropped to minus 51 degrees this week, causing the death of an 18-year-old student at the University of Iowa campus.