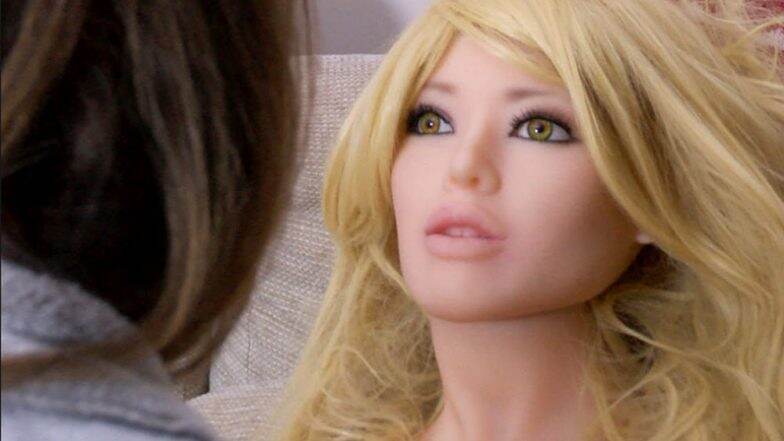 The XXX porn world is ever evolving. We have seen animation porn aka XXX anime porn to ASMR porn but now to step up the game, we have SEX-BOTS featuring in adult movies as a new 18+ "erotic sci-fi TV series" airs online. Yes! The new series called Future Darkly, is also explained further as an "erotic version of Black Mirror" may be the future of blue films. Giving us a glimpse of a version of the future world, a world that could be filled with life-like robots. Or maybe having XXX-rated sex movies with robotic dolls could be the future of having sex and even porn. Future Darkly's every episode surrounds a sci-fi storyline of which the first episode called The Aura Doll features the sex-bot relationships of the future. As much as we know about the storyline it revolves around a woman called Becca and an older man called Robert who get sexually involved, however, Robert wants to have a threesome involving his "special companion" Harper who is a sex-bot. Want Perfect Blowjob? World's First Oral Sex Robot 'Autoblow AI' to Reach Markets in May 2019.
Harper is described as a "blonde, curvaceous and very lifelike silicon" sex-bot. The writer and director of the episode, Bree Mill says, "I believe we are one of the first mainstream porn companies to shoot a threesome scene featuring a synthetic woman," speaking to The Sun. He further explained, "We've certainly been floored by the overwhelmingly positive reception to this scene, which I believe is one of the first in mainstream porn to feature a full sexual encounter with a silicone woman. I am strongly considering developing a series of shorts that is just devoted to sex with dolls because, when shot in an artistic way, it is actually quite erotic and beautiful. Something different."
We have also seen a growing trend of Sex doll brothels quite recently.
The new season of Future Darkly consists of about six episodes and is scheduled to air between February and July this year, available on an 18+ streaming service called Adult Time.