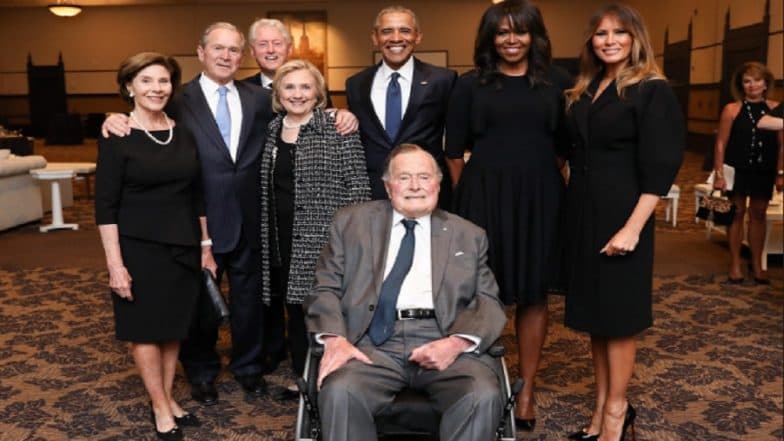 As former first lady Barbara Bush, wife of U.S.'s 41st President George H. W. Bush was laid to rest on the grounds of the George H.W. Bush Presidential Library at Texas A&M University, four former U.S. Presidents and first lady were there to pay their respects and to say good bye.
The sight of several generations of U.S. presidents paying tribute to the late Barbara Bush is being widely circulated on social media. The remarkable photo features – Barack Obama, George W. Bush, Bill Clinton and George H. W. Bush -- along with first lady Melania Trump and former first ladies Michelle Obama, Laura Bush and Hillary Clinton. The photo was taken on Saturday by Paul Morse, a former White House photographer for George W. Bush, and was initially tweeted by Jim McGrath, the spokesperson for George H. W. Bush in his post-White House years.
1 of 2: Final photos from the funeral of former First Lady Barbara P. Bush. (Credit: @PaulMorsePhoto - Office of George H. W. Bush) pic.twitter.com/r9ElE3Av56

— Jim McGrath (@jgm41) April 22, 2018
Current U.S. President Donald Trump is absent from the photo, as he did not attend the funeral on Saturday. The White House released a statement saying he decided not to attend the funeral in order "to avoid disruptions due to added security, and out of respect for the Bush family and friends attending the service." He did tweet on Saturday that he was watching the event on television from his Palm Beach, Florida, golf resort, Mar-a-Lago, which he dubbed the "Southern White House."
Today, my thoughts and prayers are with the entire Bush family. In memory of First Lady Barbara Bush, there is a remembrance display located at her portrait in the Center Hall of the @WhiteHouse. pic.twitter.com/AuJ3RLZyax

— Donald J. Trump (@realDonaldTrump) April 21, 2018
The funeral, was attended by some 1,500 mourners who gathered to pay their respects to a lady whose least minor accomplishment can be said to be the wife of U.S.'s 41st President, mother of U.S.'s 43rd President George W. Bush and mother of Florida's long-time Governor Jeb Bush.
Among her lasting legacies she leaves behind stories of her quick and formidable wit, as well as her devotion to promoting literacy in the country, and bringing awareness to AIDS patients.