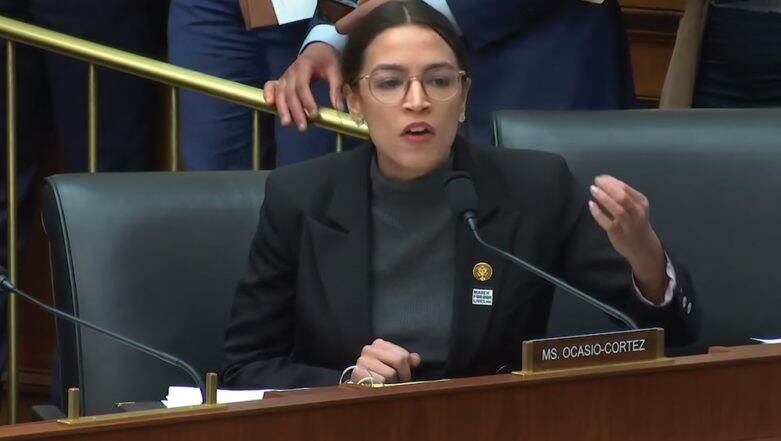 American politician and activist Alexandria Ocasio-Cortez's speech on climate change has gone viral as social media users resonate with her thoughts. She spoke in defence of her Green New Deal proposal on Tuesday as the Senate rejected it terming it as a political stunt to put pressure on vulnerable incumbents. The US representative was forced to defend her Green New Deal after Congressman called it an elitist pet project. However, the democrat argued that if the US doesn't spend money on implementing these public work projects now, then in the coming 10 years they will have to spend much more for environmental devastation than what is required now.
Ocasio-Cortez in a House committee hearing said, "As towns and cities go underwater, as wildfires ravage our communities, we're going to pay. And we have to decide whether we're going to pay to react, or pay to be proactive." Alexandria further says, "The Green New Deal is one that if you are a rich liberal from maybe New York or California it sounds great because you can afford to retrofit your home or build a new home that has zero emissions, that is energy efficient, affordable and safe." Global Warming: World In the Midst of Warmest Ten Years since 1850.
Watch the video below:
Check out Alexandria's tweet:
Because I encouraged them to vote present, along w/ others.

McConnell tried to rush the #GreenNewDeal straight to the floor without a hearing.

The real question we should be asking: Why does the Senate GOP refuse to hold any major hearings on climate change? https://t.co/de8oKOXeJf

— Alexandria Ocasio-Cortez (@AOC) March 26, 2019
She argues, "This is not an elitist issue, this is a quality of life issue. You want to tell people that their concern and their desire for clean air and clean water is elitist, tell that to the kids in the South Bronx which is suffering from the highest rates of childhood asthma in the country. Tell that to the families in Flint, whose kids have their blood ascending in lead levels. Their brains are damaged for the rest of their lives. Call them elitist. You're telling those kids that they are trying to get on a plane to Davos? People are dying!" Climate Change Effect: Oceans are Warming Faster Than Scientists Thought, Says New Research.
Check out the tweet below:
Ugh I fucking love this woman 😩❤️ Please run for President when you can @AOC https://t.co/5RZsztXo43

— Matt Wilson (@mattymuffffins) March 27, 2019
AOC's video was widely shared on social media with people praising her unapologetic speech. Liberal activist Brian Tyler Cohen shared the video on Twitter and received over 2.2 lakh likes.
Check out Brian Tyler Cohen's tweets below:
"We talk about cost—we're going to pay for this whether we pass a Green New Deal or not. Because as towns and cities go underwater, as wildfires ravage our communities, we're going to pay. And we have to decide whether we're going to pay to react, or pay to be proactive."

-@AOC pic.twitter.com/akp2xPYeof

— Brian Tyler Cohen (@briantylercohen) March 27, 2019
And sure, it did!
Safe to presume this is Ocasio-Cortez's next viral video from a committee hearing pic.twitter.com/SrBd6MY5Xx

— Shane Goldmacher (@ShaneGoldmacher) March 27, 2019
Talking about her stand on the climate change, Alexandria in an interview to In These Times magazine said, "We need more environmental hardliners in Congress. We need a Marshall Plan for renewable energy in the United States. The idea that the Democratic Party needs to be moderate is what's holding us back on this."