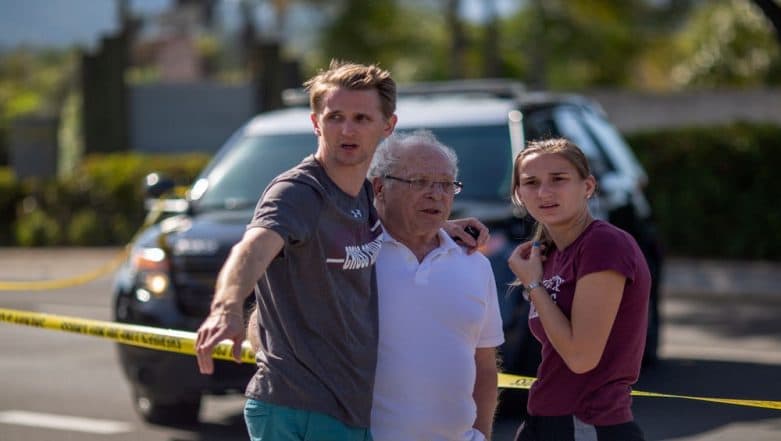 San Diego, April 28: One woman was killed and three others left injured after a 19-year-old open-fired at a synagogue located in San Diego. The incident, on Saturday, was reported on the last day of the Jewish festival of Passover. The accused was taken into custody after he dialled 911 and confessed to have attacked the Chabad of Poway, said police chief David Nisleit.
Nisleit told reporters that the accused fired at the synagogue and subsequently fled using his car. An off-duty patrol officer fired at him to prevent him from fleeing. However, the teenager escaped on to the highway and raced away.
The accused dialled 911 shortly and gave his location. As the police team approached, he surrendered himself cordially. The officers found an AR-type rifle in the front passenger seat of his car.
US President Donald Trump expressed sorrow over the attack, saying that it prima facie appears to be a hate crime. "At this moment it looks like a hate crime, but my deepest sympathies to all those affected and we'll get to the bottom of it," he said.
Among those injured include the rabbi, who sustained injuries on his hand, along with another worshipper who is said to be critically injured. They have been admitted to Palomar Health Medical Center Hospital, spokesman Derryl Acosta said.
The incident comes exactly six months after Pittsburgh faced the worst anti-semitic crime in the recent US history. A total of 11 Jews were shot dead in the October 27 rampage at the Tree of Life synagogue on October 27. The accused, a truck driver, has pleaded not guilty.
In Pittsburgh, a truck driver who authorities say expressed hatred of Jews has been charged in the Oct. 27 rampage at the Tree of Life synagogue. He's pleaded not guilty.