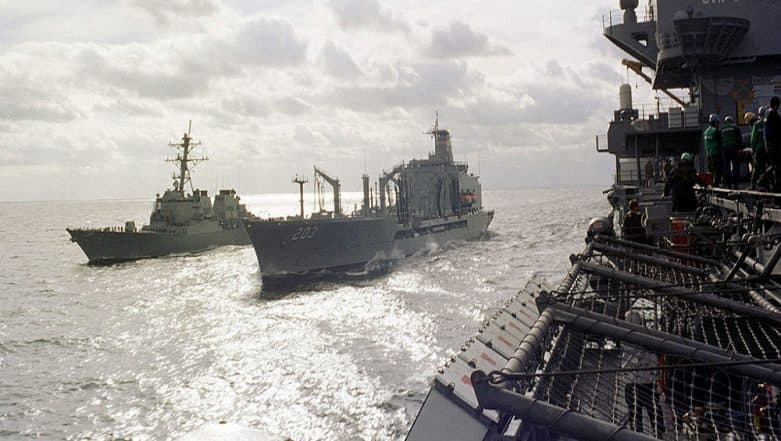 Gibraltar, July 31: Four of the 24 Indians on seized Iranian oil tanker in Gibraltar will face the prosecution, officials privy to the case said on Wednesday. The accused have been charged of violating European Union sanctions and will have to undergo a judicial process for obtaining bail. Iran Releases 9 Out of 12 Indians Held from Detained British Oil Tanker Ship
The tanker, identified as Grace 1, was apprehended by the United Kingdom's Royal Marines on July 4. The ship was charged of violating the EU sanctions by attempting to supply oil for a refinery based in Syria.
The remaining 20 crew members are expected to be repatriated soon, said the Mumbai-based company which had placed them for a maritime job on the Iranian vessel.
The Gibraltar authorities have claimed that the vessel is loaded to capacity with crude oil enroute to Syria, in breach of the European Union (EU) sanctions and confirmed that the next hearing in the case is scheduled for August 15.
"Three consular officials had meetings with the crew on the high seas on Wednesday. They are safe and well and remain in contact with their families," the Indian High Commission said in a statement in London on Thursday.
"Further meetings are planned this week with Gibraltar officials. All help will be extended to the Indian nationals," the statement noted.
According to reports from India, the total number of Indians aboard the vessel are 24. Royal Gibraltar Police (RGP) had earlier said that the senior crew members who were arrested and questioned had been bailed as the investigating remained ongoing.
The Gibraltar government confirmed that "on an application by the Attorney General, the Supreme Court has extended the period of detention of the vessel, Grace 1, for a further 30 days and has set a new hearing for 15 August 2019."