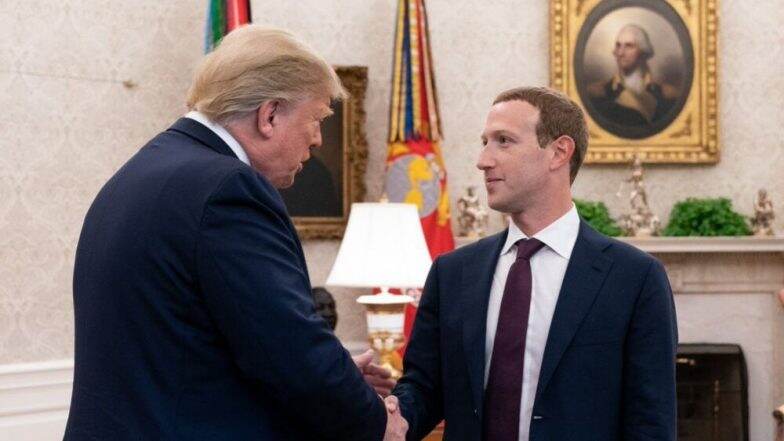 Washington, September 20: Facebook CEO and co-founder Mark Zuckerberg met with President Donald Trump on Thursday. According to the statement issued by the company, they had a 'good, constructive' meeting at the White House. Facebook's Mark Zuckerberg Wants the Government to Regulate Content on the Internet.
"Mark is in Washington, D.C., meeting with policymakers to hear their concerns and talk about future internet regulation. He also had a good, constructive meeting with President Trump at the White House today," Facebook said in a statement.
In a tweet, Donald Trump said that it was nice meeting with Zuckerberg. However, no details about the meeting were revealed.
Check Donald Trump's tweet:
Nice meeting with Mark Zuckerberg of @Facebook in the Oval Office today. https://t.co/k5ofQREfOc pic.twitter.com/jNt93F2BsG

— Donald J. Trump (@realDonaldTrump) September 20, 2019
According to a Cnet report, Zuckerberg has been in meetings with several lawmakers from both parties this week and discussing various topics including data privacy, accusations of conservative censorship, antitrust enforcement and government regulation.