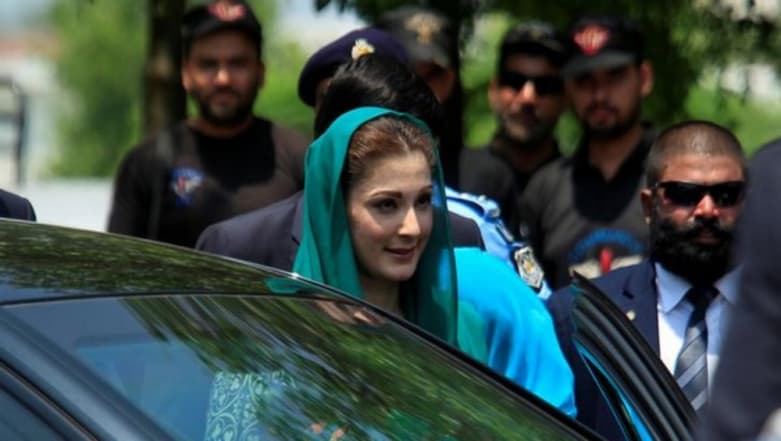 Islamabad, August 8: Maryam Nawaz, daughter of former Pakistan Prime Minister Nawaz Sharif has been arrested by National Accountability Bureau (NAB), Pakistan media reported. According to reports, Maryam had gone to meet her father who is currently in Kot Lakhpat Jail after being sentenced in a NAB reference. She has been arrested in connection with to a corruption probe involving Chaudhry Sugar Mills. Pakistan Judge Says Nawaz Sharif's Daughter Maryam Tried to Bribe Him, Calls Video 'Fake'.
According to Pakistan Daily, The Dawn, a new case of corruption related to Chaudhry Sugar Mills (CSM) against Nawaz Sharif and his family members will soon be filed in the accountability court by the NAB. Several media reports stated that the NAB had summoned Sharif in relation to a corruption probe.
A report by Pakistan Today states that Maryam has been asked to provide details of contacts with four foreigners, UAE's Saeed Saif Bin Jabbar Al-Saudi, UK's Sheikh Zaka-Uddin, a Saudi national Hayi Ahmed and UAE's Naseer Abdullah, in relation to the mill's financial matters.
The arrest comes after NAB traced several telegraphic transfers (TTs) worth millions of rupees by the Sharif family, reports said. The end beneficiaries allegedly including Maryam Nawaz and other owners of the Chaudhry Sugar Mills.
Earlier this month, Maryam had severely criticised Pakistan Prime Minister Imran Khan and demanded his resignation. In a post-midnight rally on Sunday in Mandi Bahauddin, the 45-year-old leader raised slogans against Khan and said that the 66-year-old cricketer-turned-politician does not have any legitimate right to rule Pakistan.