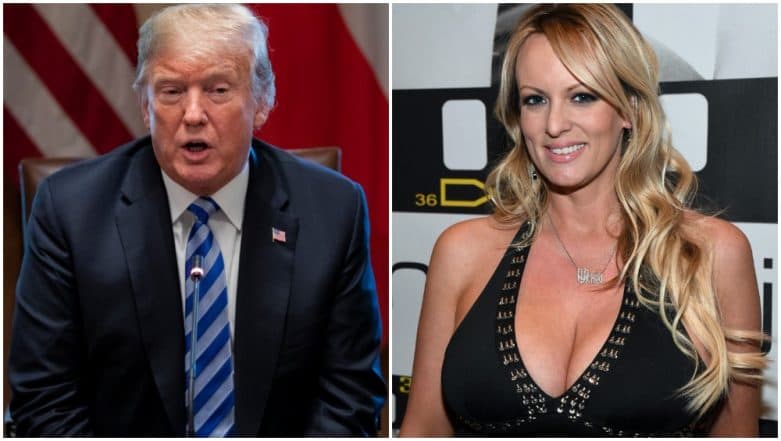 Washington, January 11: Did Donald Trump pay $130,000 hush money to porn film actress Stormy Daniels to stay silent on her sexual relationship with him before he became US President? Trump's former personal attorney Michael Cohen could answer to this question on February 7. Michael Cohen has agreed to testify publicly before a congressional panel, reported Reuters.
In a statement, Cohen said he had accepted an invitation to testify from Representative Elijah Cummings, the Democratic chairman of the House Committee on Oversight and Government Reform. "I look forward to having the privilege of being afforded a platform with which to give a full and credible account of the events which have transpired," Cohen said. Fortnite Comes Second After Stormy Daniels in Top New Searches of 2018 at Pornhub.com.
Cohen was sentenced in December last year to three years in prison for his role in making illegal hush-money payments to two women to help Trump in 2016 in violation of campaign laws, and for lying to Congress about a proposed Trump Tower project in Russia. He admitted to making the payment but did not reveal why. Stormy Daniels to Pay $294,000 to Trump as Legal Fees.
Stormy Daniels, whose real name is Stephanie Clifford, said she had sex with Trump more than a decade ago and claimed that Cohen had signed an agreement three days before the 2016 presidential election. Under the pact, Daniels received $130,000 not to talk about Trump. Cohen admitted to making the payment but denied that the actress had sex with Trump.
Daniels, popularly known for her appearance in The 40-Year-Old Virgin, has claimed she had an intimate relationship with Trump which took place in 2006 and 2007 at locations such as the Beverly Hills Hotel and Lake Tahoe.