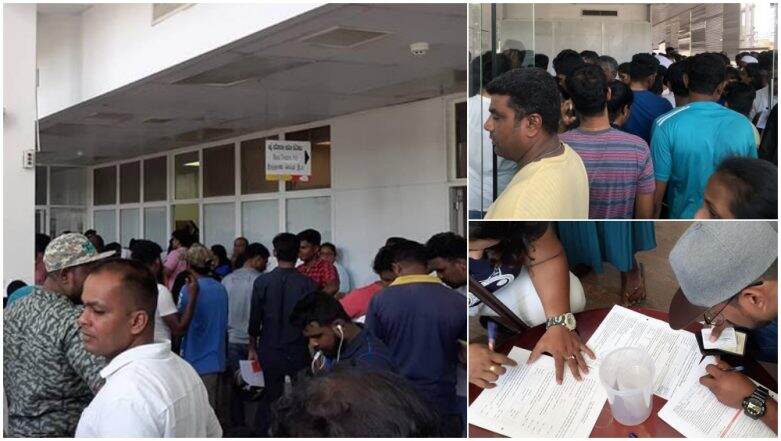 While Easter Sunday is supposed to be a celebratory occasion, it ended into a tragedy at Sri Lanka, where 8 explosions were reported in different churches and hotels in the country. Three churches and three hotels were targetted in these serial blasts. Over 200 people are dead and more than 450 people have been reported injured in these explosions. While the injured are rushed to the hospital, people have gathered in huge numbers to donate blood to save the lives of those fighting for survival. An appeal was made on social media for people to donate blood and pictures of people turning out in great numbers were shared on social media. A mark of solidarity and unity in times of the crisis, people from all religions gathered to contribute in whatever way they could, to save the lives of the people. Sri Lanka Serial Blasts on Easter Sunday Live News Updates.
While tweets condemning the attacks and those praying for strength and peace in the nation are flooding online since morning, people are also proudly sharing pictures of those who have gathered to donate blood. The Sri Lanka National Blood Transfusion Service had so many people that it got difficult to even control the crowd at a point. Some people had to be sent back and were asked to return later. Pictures from different places were shared as a symbol of strength and togetherness in the country. Sri Lanka Blasts: Nationwide Curfew in SL Till April 22 Morning, Schools Shut; Facebook, WhatsApp, Viber Blocked Temporarily.
Serial Blasts in Sri Lanka:
Here's a Tweet Appealing For Blood Donation:
Due to the prevailing disaster situation blood requirement is becoming increased, request volunteers to donate blood to Narahenpita blood center - Sri Lanka National Blood Transfusiom Service. #LKA #SriLanka pic.twitter.com/UC9Xu4jwwQ

— Daniel Alexander (@daniel86cricket) April 21, 2019
People were quick to respond and long queues formed outside the center for blood donation.
Everyone Carries The Same Blood
In the midst of this tragedy, it's reassuring to see the outpouring of solidarity as people donate blood. Buddhist, Christian, Hindu, Muslim & others are donating because we are humans with the same blood & same spirit of compassion.Nobody can deny our common humanity. #lka

— Mangala Samaraweera (@MangalaLK) April 21, 2019
Symbol of Strength!
Blood Donation 💝

Let's stand together and defeat terrorism 💪🔥🇱🇰 #SriLanka pic.twitter.com/ak98Zh1pva

— TheMiracle ヅ 🇱🇰 (@sandunendika) April 21, 2019
Huge Turnout for Help
Overwhelming response at National Blood Centre. It's so overcrowded they cannot control the crowd. Currently they are sending back people who have come after taking down name, contact and blood group. Don't rush there now go leisurely as the crowd subsides #LKA pic.twitter.com/EAvYyr73kH

— Usman Ali 🇱🇰 (@usmanali_la) April 21, 2019
The Spirit won't die
Seems National Blood Bank is unable to handle the massive turn out of people who are risking their own lives to donate blood. This is my Sri Lanka. This is what it means to be Sri Lankan. As long as this spirit remains this country will not die! @NamithSwarnasinghe pic.twitter.com/pEQd2LGfTk

— Jeevani Fernando (@Jeevanifdo) April 21, 2019
The hospitals were able to meet with the needs of blood requirement with so many people turning out to do their bit. Among all the horror of the barbaric act, these people serve as restoring faith in humanity.