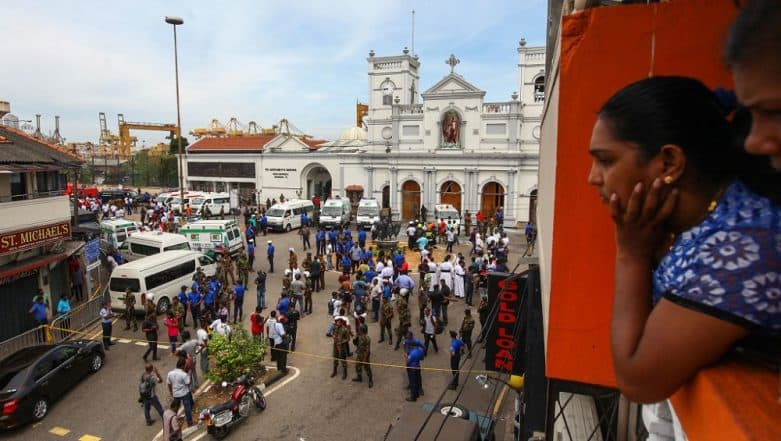 Colombo, April 23: The serial attacks in Sri Lanka which targeted churches and luxury hotels on Easter Sunday was carried out by local Islamic extremists in "retaliation for Christchurch" in New Zealand, state minister of defence Ruwan Wijewardene told parliament, citing the initial probe result. In the New Zealand attack, 50 people were killed in a shooting on two mosques in Christchurch on March 15. Sri Lanka Blasts: 10 Indians Killed in Suicide Bombings, Says MEA.
"The preliminary investigations have revealed that what happened in Sri Lanka (on Sunday) was in retaliation for the attack against Muslims in Christchurch," said Wijewardene to parliament. Serial Blasts in Sri Lanka on Easter Sunday: Death Toll in Multiple Blasts Rises to 310, 40 Suspects Arrested.
On Sunday, a series of eight powerful blasts ripped churches and luxury hotels, frequented by foreigners, in Sri Lanka on Easter. In the deadly attack, over 320 people lost their lives and wounded more than 500 others, of which 375 are still undergoing treatment in hospitals. Sri Lanka Never Expected Bombings of Such Magnitude, Says Defence Secretary Hemasiri Fernando.
Till now, police have arrested 40 people for their alleged involvement in the suicide bomb attacks. Inspectors are now hunting for clues on whether the chief suspect, National Thowheeth Jama'ath (NTJ), a local Islamist group received "international support", said government spokesperson Rajitha Senaratne.
According to President Maithripala Sirisena's office, there were intelligence reports that "international terror groups" were behind that attack. Meanwhile, police and military officials have been given special powers. They can detain suspects without a court order.