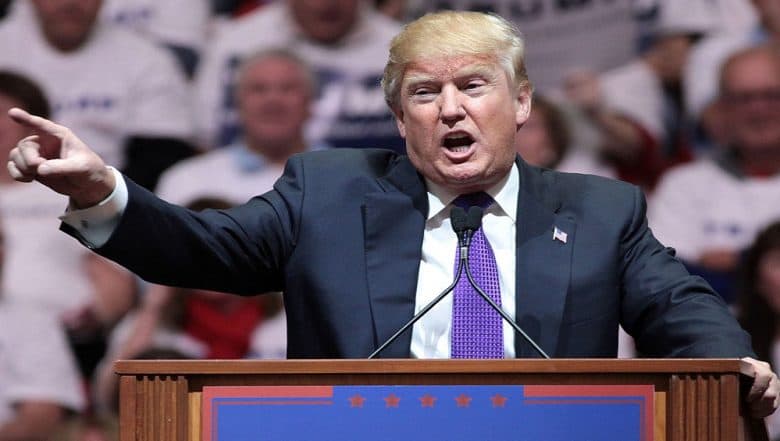 Toronto, February 20: US President Donald Trump is raising the pitch of his rhetoric against Venezuela's leader Nicolas Maduro and has now targeted the country's military for continuing to support Maduro's government.
Speaking at a rally in Miami where a large number of Latin Americans were present including Venezuelans, Trump warned Venezuela's military leaders against continuing to prop up Maduro. He targeted the military leaders by saying, "You cannot hide from the choice that now confronts you. You can choose to accept president Guaido's generous offer of amnesty to live your life in peace with your families and your countrymen. Or you can choose the second path: continuing to support Maduro." The US president then warned, "You will find no safe harbour, no easy exit and no way out. You will lose everything," the US president said in his speech. He added, "We seek a peaceful transition of power, but all options are open."
By all options, Donald Trump includes military intervention in Venezuela even as he has recognised opposition leader Juan Guaido as the country's president and attempted to route monetary and material aid to him.
In Miami, Trump praised Venezuelan dissidents, and spoke to the mother of a rebel helicopter pilot who was killed near Caracas last year after dropping grenades on government buildings. "I don't know what she said but I think I know what she said," Trump said, that the woman's son "will not have died in vain".
Trump's speech comes as Guaido is trying to bring in US aid in to the country that is suffering from acute food and medicine shortage due to the mismanagement of the country's economy during Maduro and his predecessor Hugo Chavez's reign. Maduro has ordered this aid from the U.S. to be prevented from entering into the country, at all costs.
The Venezuelan military has erected barriers on highways and bridges that link Colombia to Venezuela through which aid is being prepared to be sent. Three US military cargo planes delivered several tons of food assistance to the Colombian town of Cucuta over the weekend. Another US aircraft was due in Curacao from Miami on Tuesday. But Maduro has instructed his army to prepare a "special deployment plan" for the 2,200-kilometer border with Colombia.
Guaido who has been recognised as the country's president by a dozen or so western nations, has ordered the armed forces to let the aid pass, but they remain loyal to Maduro's regime.