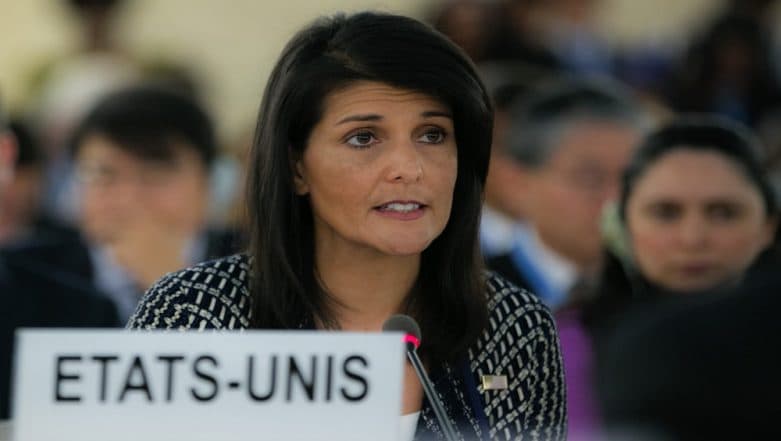 Washington, June 20: Accusing the United Nations (UN) of being bias against Israel, the United States on Tuesday withdrew from the United Nations Human Rights Council. The withdrawal is the latest US rejection of multilateral engagement after it pulled out of the 2015 Iran nuclear deal and is believed to make human rights globally even more difficult.
The U.S. ambassador to the United Nations, Nikki Haley, came to Washington to announce the decision alongside President Donald Trump's top diplomat, Secretary of State Mike Pompeo.
In her address, Haley took a dig on Russia, China, Cuba and Egypt for thwarting US efforts to reform the council and slammed countries which shared US. Haley said, "We take this step because our commitment does not allow us to remain a part of a hypocritical and self-serving organization that makes a mockery of human rights".
"Disappointing, if not really surprising, news. Given the state of #HumanRights in today's world, the US should be stepping up, not stepping back" -- UN Human Rights Chief #Zeid following USA decision to withdraw from U.N. Human Rights Council.#StandUp4HumanRights

— UN Human Rights (@UNHumanRights) June 19, 2018
Haley further added saying that the "disproportionate focus and unending hostility toward Israel is clear proof that the council is motivated by political bias, not by human rights." The decision came after the top UN human rights official criticised Washington for separating migrant children from their parents who are seeking asylum after crossing into the country from Mexico.
It must be noted that the Trump administration had long threatened to quit if the 47-member Geneva-based body. "Look at the council membership, and you see an appalling disrespect for the most basic rights," said Haley, citing Venezuela, China, Cuba and the Democratic Republic of Congo. According to reports, twelve rights and aids groups which includes the Human Rights First, Save the Children and CARE, wrote Pompeo to warn the withdrawal would bring in more difficulties and would add on victims of abuse around the world.
The United States has been facing intense criticism for detaining children separated from their immigrant parents at the US-Mexico border. Reports by TOI, inform that critics are of the opinion that the administration turns a blind eye to human rights abuses in some parts of the world. On Monday, UN High Commissioner for Human Rights Zeid Ra'ad al-Hussein called on Washington to halt its unconscionable policy. Reports have quoted Haley saying that the US withdrawal from the Human Rights Council "is not a retreat from our human rights commitments."