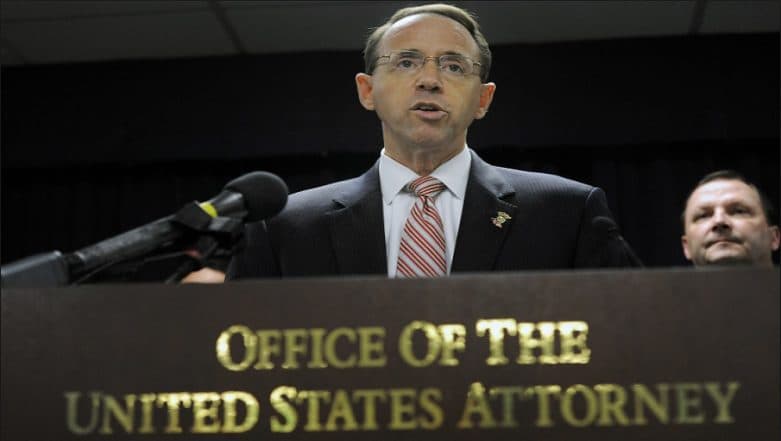 Mumbai, April 30: Rod Rosenstein will go down in US history as an administration official who oversaw one of the most infamous investigations against a sitting U.S. president. He successfully navigated the troubled waters and managed to stay above partisan politics during extremely partisan times in the U.S. But Rosenstein has now called it quits serving under US President Donald Trump and submitted his resignation.
His resignation is effective May 11. The letter which was submitted to the White House reads, "We enforce the law without fear or favor because credible evidence is not partisan, and truth is not determined by opinion polls," Rosenstein wrote. "We ignore fleeting distractions and focus our attention on the things that matter, because a republic that endures is not governed by the news cycle."
During his time in office, Rosenstein came to hold the spotlight as his superior Jeff Sessions had recused himself from the Mueller probe. This meant that it fell upon Rosenstein to bring in Special Counsel Robert Mueller and appoint him to head the Russian interference probe.
The other controversies that Rosenstein found himself surrounded with, include:
Rosenstein wrote a memo criticising former FBI Director James Comey for his investigation into Russia's 2016 actions, which was then used by Donald Trump as a reason to fire Comey.

Rosenstein discussed wearing a "wire" to record conversations with the US President and also recruit other Cabinet members to invoke the 25th Amendment to remove Trump from office.

Rosenstein was also blamed by Trump for the Mueller probe, and the US President wanted to "fire him" on multiple occasions. CNN had reported in 2018 that Trump was heard saying, "let's fire him, let's get rid of him" but his advisers told him it was a bad idea.
The White House had not reacted to Rosenstein's resignation but noted that Trump had already nominated Deputy Transportation Secretary Jeffrey Rosen to replace him.