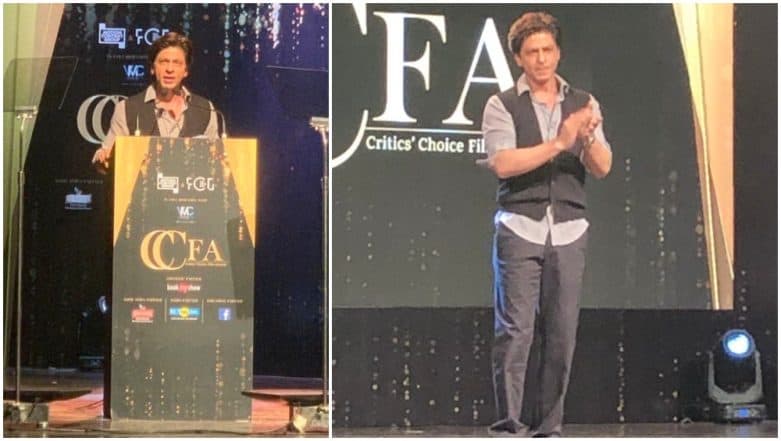 The Critics' Choice Film Awards 2019 was held last evening (April 21) for which many film critics and actors came under one roof. Besides the awards, the one who stole the limelight was none other than Shah Rukh Khan. He is not just a fabulous actor but when it comes to deliver speeches, he is known to leave everyone speechless. Bollywood's Baadshah was a special guest at the award show last evening and he delivered one brutally honest speech, and it is something that nobody shouldn't miss. First Ever Critics Choice Film Awards to Be Held in India This Year – Read Details.
Shah Rukh Khan has not had some great hits at the box office in recent times. Be it Fan, Jab Harry Met Sejal or Zero, his films tanked at the ticket windows. Since then fans and critics are questioning about his choice of roles and why he is experimenting or taking risks despite such back-to-back flops. SRK took the perfect opportunity to clear all the doubts of the film critics at the Critics' Choice Film Awards 2019. He decided to deliver his speech in the manner that the critics share their reviews about films and actors. He poked fun at some of the popular critics of Bollywood. If you haven't watched that video yet, you must check it out now. Critics Choice Film Awards 2019 Winners List: Alia Bhatt, Vineet Singh and Sriram Raghavan Take Home the Coveted Trophy.
Watch SRK's speech at the 2019 Critics' Choice Film Awards
My Beautiful Wise King @iamsrk 💋

How Wise & Strong are your words Sweetheart, like always aaah Sukoon ♡

Thanks for the Sweet slap for the gyaani critics who rate the films by stars only, they are not goddamn Hotels with stars🙏#CriticsChoiceFilmAwards pic.twitter.com/bhRrbuVDgF

— ♡ Sнαн Kι Bιωι ♡ (@JacyKhan) April 21, 2019
"The star system cannot be the only way of summing up films by our critics. 3 stars, 3.5 stars, 3 and a quarter stars, 5 stars....It's a film, not a hotel for God sake. With critics sprouting all over, film critic is becoming an endangered species. Please let it not get replaced by consumer service," said Shah Rukh Khan. Don't you think these words of Bollywood's Baadshah must have hit the critic's big time? On the work front, Shah Rukh Khan is yet to announce about his next project.