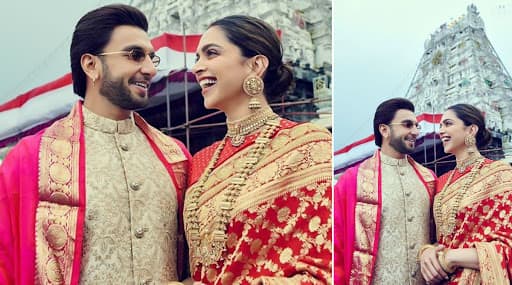 Deepika Padukone and Ranveer Singh complete their first year of matrimony today. We still remember the frenzy we got into last year, when they left for Lake Como, Italy to wed. They never confirmed anything, which was an open secret by then. After a long and almost exhausting wait, we got the first pictures from their two-part ceremony and the internet wasn't the same again. So we are also feeling a rush of emotions today. The couple decided to begin their first-anniversary celebration by seeking blessings at the Tirupati temple. Deepika Padukone and Ranveer Singh Look Like Newlyweds as they Reach Tirupati to Seek Blessings on their First Wedding Anniversary.
On the occasion, Deepika took to Instagram to share a heart-warming post of the couple at the temple. Deepika looked stunning in a red saree, which was exquisite. And Ranveer looked as smitten by her as he did in their wedding photos.
Check out Deepika's Message Here:
After the wedding, which the couple tried to hide from the world, Ranveer gave an interesting interview to Filmfare. He said, "Six months into the relationship, I knew she was the one. I nurtured the relationship accordingly. It's been six years now. She's too good, too lovely. She's a force of nature. I understood that almost immediately." He even mentioned how Lake Como was her idea and he just went along with it as he wanted her to have the wedding of her dreams.