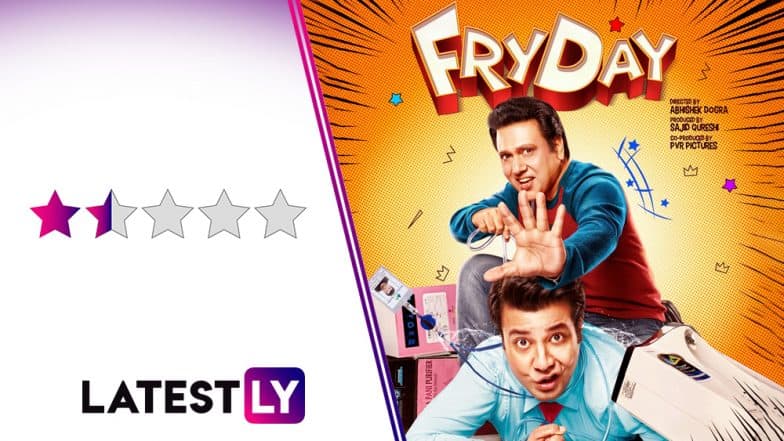 Why can't someone really give Govinda a movie worthy of his immense talents? Or is it that the actor himself has a knack of choosing bad movies? Govinda did try to do something different in his career in the past decade, working with Mani Ratnam, Shaad Ali, Raj-DK and Nikkhil Advani, but nothing worked for him. Call it the case of the bad luck factor. That doesn't absolve him of being lazy of not adapting himself to the current times and then thinking that he can pull off schlock-fest like Aa Gaya Hero! So can FryDay change things for the better? The answer to that lies in the question I asked in the first sentence! Did You Know Govinda Turned Down Taal and Devdas? Here's Why!
So in FryDay, Govinda is a married theatre artiste Gagan Kapoor, who is a philanderer lusting after a much younger Bindu (Digangana Suryavanshi), who is herself married to an older man (Rajesh Sharma). His wife Bindu (Prabhleen Sandhu) runs an NGO and doesn't spend time with him. On a Friday, Bela leaves to Simla for a meeting and in her absence, Gagan calls Bindu to spend some intimate moments with her. Their rendezvous is broken by Rajiv (Varun Sharma), a down-on-luck water-purifier salesman who has to sell one unit at least before Friday to keep his job. He thinks Bindu is Gagan's wife, and Gagan does his best to drive away this menace in his paradise. Unfortunately for him, Rajiv is not the only thorn in his adulterous affair that day!
In defence of Fryday, one thing I can say is that the film looks a cohesive product, when compared to Govinda's last outing, Aa Gaya Hero. The premise, set mostly in a house, has the potential to tap on Govinda's energy and talents, while also exploring the humour in the gambit that main characters, and others that come in and out, find themselves in. The actors also do their best to make the gags work, perhaps a bit too much. Some jokes do make you laugh, especially Govinda's intro scene in a theatre where he ends up stealing all the lines of his co-stars. FRYDAY Song Jimmy Choo: Govinda's Presence Makes This Number A Must Watch!
Although the setup of the plot within a house is interesting, the script itself borrows ideas from earlier films with the same themes. Two movies that mostly comes to your mind while watching FryDay is Govinda's own Do Knot Disturb, and No Entry, both movies sharing the common theme of having a laugh over philandering husbands.
Fryday, unfortunately, is also struck down by lacklustre writing that doesn't give Govinda and Varun Sharma much scope to be amusing throughout. Unless you think shouting at the top of your lungs is funny. Or Govinda frequently saying 'lagana' at Digangana's character. Also who's bright idea was it to cast this barely 20-something actress in the role? It was embarrassing to see a 50-plus Govinda try to get hot and heavy with a girl much younger than his real-life daughter.
To top it all, there are some lewd jokes strewn throughout trying to find humour in leering men, and tasteless comments. With the #MeToo movement going strong in India these days, the makers couldn't choose a worse time to release this film. After all, it is about a man who gets away unpunished for his roving-eye ways. Chetan Bhagat would disagree. Director Abhishek Dogra's (who last made Dolly Ki Doli) work here is strictly okay at best. The BG score is filled with comical cues and I was actually disappointed that it didn't include a laughter track!
Thankfully, the film is short with no addition of unwanted songs.
Watch the Trailer of FryDay Here -
The Performances
Govinda still has the knack of keeping you amused and entertained even when equipped with the shittiest of lines. Like his younger days, he can easily blabber long dialogues with ease and his dancing skills are intact. The only thing that he lacks is the understanding of a script and the era that he is currently in. Varun Sharma repeats his Fukrey act in a character that reminds you of Fardeen Khan in No Entry. Digangana is miscast. Prabhleen Sandhu is good and feels like a match for Govinda. Brijendra Kala's thief subplot is annoying at times. Rajesh Sharma shines in the scene where he gets emotional about his wife. Sanjay Mishra is wasted.
Yay!
- Govinda
- Some comic bits work
- Mercifully short
Nay!
- Out of place in current times
- Feels like a loud stage-play
- Unoriginal
- The female lead is miscast
Final Thoughts
Govinda fans might find little to cheer in FryDay though it is definitely better than his last film and, most probably, his next too, Rangeela Raja (produced by the sanskaari man Pahlaj Nihalani himself). But that's like saying it is better to get hit by a train than having a long screw slowly drilled into your head. FryDay is mostly an unamusing exercise of tedium and is a perfect example of Bheja Fry!