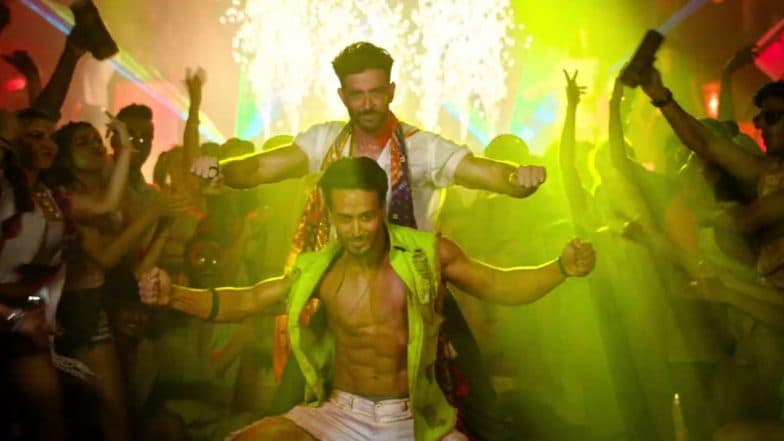 One of the most-awaited songs from War, featuring both the dancing legends Hrithik Roshan and Tiger Shroff in one frame, "Jai Jai Shivshankar" released today. The song is a party track that features Hrithik and Tiger's characters celebrating Holi. The song has all the elements to make it a super-hit with the masses and looking at that killer video, it definitely looks like fans won't be able to keep their eyes off these two stars. As soon as the song was released over Twitter, fans started sharing the track and it soon seemed difficult for them to choose between 'Team Hrithik' Vs 'Team Tiger'. Jai Jai Shivshankar Song: Hrithik Roshan and Tiger Shroff's Dance 'War' Will Make it Impossible For You to Look Away from Your Screens (Watch Video).
The song has been choreographed by Bosco and Martis and we have to say it gets incredibly difficult to pick and choose between Hrithik and Tiger to see who dances better. They are like mirror images at points and that's why, this song will be a treat for dance lovers. What's amazing though is that netizens seem to have found their favourite in Hrithik Roshan in this foot-tapping number. Several users on Twitter shared Hrithik's amazing entry shot in the song and have been going gaga over his talent.
There's no doubt that Tiger too has a huge fan base and there are several users who are appreciating his talent of standing out despite the fact that he is matching steps with someone as brilliant a dancer as Hrithik Roshan. Check out how netizens picked their sides between Hrithik and Tiger for this dance number. War Trailer: Hrithik Roshan-Tiger Shroff's Face-Off In This High-Octane Action Drama Is Impressive.
When Hrithik Roshan Takes the Dance Floor:
It's all fun and games until the real Gangsta arrives!!#JaiJaiShivShankar #TeamHrithik #War pic.twitter.com/H1DIsyjlh9

— HrithikRules.com (@HrithikRules) September 21, 2019
A Solo Hrithik Roshan Dance Number is in Demand:
I don't understand why they spend on background dancers when Hrithik is dancing. Just remove them and keep only him to save budget bcoz nobody watches anybody but him when he dances 🤣😍😍#JaiJaiShivShankar

— Maya (@IamMayaSharma) September 21, 2019
Team Hrithik is Strong:
#JaiJaiShivShankar song is an instant chartbuster.

Tbh i just can't get my eyes off from Hrithik.

What a charismatic dancer you are @iHrithik.

What a swag you have while dancing 🔥🔥🔥

— Shiv (@shivjw) September 21, 2019
This!
Total Dominance @iHrithik 💥🔥#War #JaiJaiShivShankar pic.twitter.com/0CeJMwq8nA

— Sai Pallavi For Life📿🖤:) (@ImRajOfficial) September 21, 2019
Best GIF Ever!
NOBODY COULD EVER . NOBODY . #JaiJaiShivShankar #HrithikRoshan #War pic.twitter.com/PbVjtOJHOK

— ~❀✿ (@akritixx) September 21, 2019
On Repeat Mode:
such a simple entry yet it's so damn powerful😍😩❤️❤️❤️

King @iHrithik #JaiJaiShivShankar #WAR pic.twitter.com/IzZEkLJoDQ

— kay. (@karishmaroshan) September 21, 2019
Can You Really Pick One?
For me it's very difficult to judge between @iHrithik and @iTIGERSHROFF that who is more better and who dance more better in #JaiJaiShivShankar.

Both of them burned 🔥🔥the dance floor.

It's a big blast 💥💣

Superrr...👊🤛✌☝️👏#JaiJaiShivShankar pic.twitter.com/JQgi7zqCQ0

— AnuBhav Kumar (@the_AnuBhavKr) September 21, 2019
Hrithik Roshan and Tiger Shroff are all set the screen on fire not just with their dance but also their action together in War. The film promises to be a complete entertainer and we bet the holiday release of October 2 is going to become a huge money spinner.