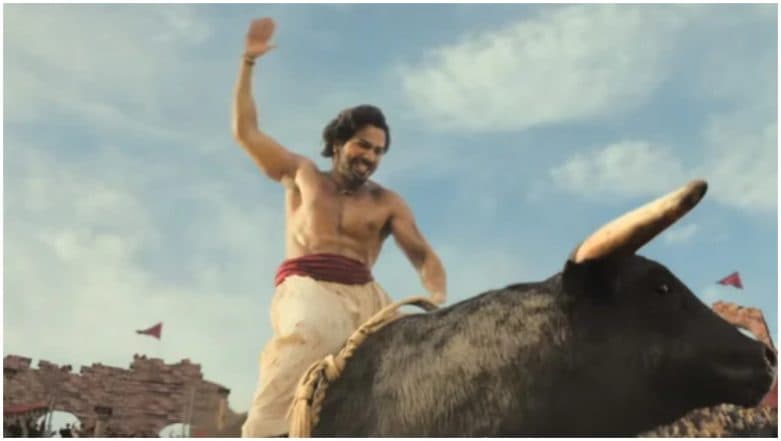 If you had gone for a screening of Kalank, you might have been impressed by the opulent frames of the film. You might have loved the performances of the cast, especially that of Alia Bhatt and Varun Dhawan. And you might have also been disappointed about how sagging and stretched the whole saga is. But there is one scene in Kalank that you might not be able to forget very easily - the bull-fight sequence. Kalank Movie Review: Alia Bhatt, Varun Dhawan, Kunal Kemmu Shine in a Beautifully-Framed but Dull Love Saga Set During the Partition.
You had seen glimpses of the scene in the trailers as well as in the posters. But the scene in the final movie is something else. You had a laugh over Alia's skeletal hand in the trailer? Well, have a bigger laugh of how Varun Dhawan's Zafar has a serious tussle with an atrociously fake bull! One of the viewers has even managed to get a clip of the scene.
The mechanical horse video of Manikarnika was unfairly trolled, which was supposed to be a normal technical process of filmmaking. This over here is not just hilarious but actually unnecessary. Why isn't this being trolled? #KalankReview pic.twitter.com/FHcoD2lTAd

— Vij (@vijeyata292) April 17, 2019
While Kalank has drawn some funny reactions on Twitter, this scene is getting the maximum flak for making Varun look like he is on some faulty rodeo machine! Check out some of the reactions below:
Tweet #1
Sad to say but #Kalank is Kalank of 2019. @karanjohar You should pay more attention to the script. It seemed like I was watching TV serial. Bull fight VFX is poor. take inspiration from other directors.

Feeling sorry for @Varun_dvn

— Shivam jaiswal (@Shivamjaswal5) April 17, 2019
Tweet #2
What a scene... the bull really acted well, trying to throw Varun up n down .. He's so very real & Varun is so very brave ...He's like the Texan Cowboy ...aye ? lmao 😂😂😂😂😂😂😂😂😂 #Kalank #SuperFlopKalank #KalankReview

— QueenBee (@artemis_ari) April 17, 2019
Tweet #3
God😢What a hell of #Kalank!

BIG BIG DISAPPOINTMENT.

Kya Socha tha aur Kya hua. Full paisa waste .

1/5.@aliaa08 every one can't take the way @deepikapadukone carries the periodic role splendidly.

And that bull scene😂😂#KalankReview pic.twitter.com/9fiOVmz3li

— Chowkidar Debarupa Palit (@ipalitDebarupa) April 17, 2019
Tweet #4
Masterpiece..Epic.

Dilwale was Inception

Kalank is Dunkirk

The movie should go for Oscars.

Will win best Visual effects for the Bull fight.

— Chowkidar Chor Hain (@PresidentISP) April 17, 2019
Tweet #5
#Kalank : First Half of the film ends and I am disappointed hands down in first half. Slow and stretched. Though story looks exiciting and 2nd half may offer more. But that bull fight scene, who says its #DharmaProductions movie, so bad visual effects. Hope 2nd half is good.

— The Filmline Reviews (@FilmlineReview) April 17, 2019
Tweet #6
At some places, the VFX in #Kalank is no better than Kangana Ranaut's Manikarnika. The bull here is as bad as the horse there #Kalankreview

— Ankita Chakravarti (@ankitaChak15) April 17, 2019
Tweet #7
One of my close friends just saw #Kalank n he said 'there is a bull fighting scene with over acting ki dukaan Varun Dhawan; n i swear u cant help but LOL n ROFL at the extreme stupidity of the scene". 🤣🤣

— Chowkidar Baby Driver 💥 🏏 (@MaheshShenoy12) April 17, 2019
What hurts more than the bad VFX of the scene, is that it was totally not required in the film. The sole purpose of the entire sequence is to make Varun Dhawan display his bronzed abs through the unnecessary bravado of Zafar to impress Roop (Alia Bhatt). 'Cos girls fall for guys who risk their lives attempting dangerous stunts, right?
Kalank, directed by Abhishek Varman and produced by Karan Johar, also stars Sanjay Dutt, Madhuri Dixit Nene, Aditya Roy Kapur, Sonakshi Sinha, Kunal Kemmu and Kiara Advani. Kriti Sanon has a special appearance in a song sequence.