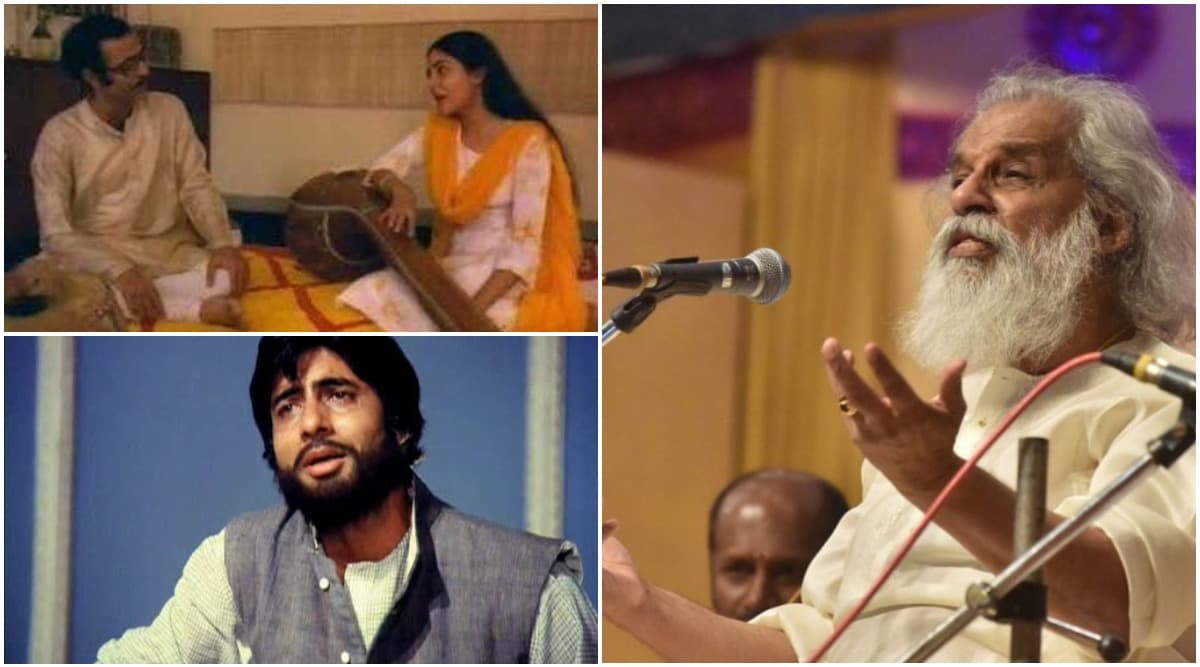 Padma Vibhushan Dr KJ Yesudas is a name synonymous with Malayalam music arena. Ask any Mallu to choose his or her favourite Malayalam song from the '60s, '70s, '80s, '90s and even in this century, there is a 90% chance that it would be sung by this legendary singer. Classical, semi-classical, devotional, romantic duets, comic songs (listen to the brilliant song, "Padagali" from Yodha) and sad tracks - there is a no genre challenge enough for Yesudas. The same also goes for the language too. Legendary Singer KJ Yesudas Turns 80, PM Narendra Modi, Kerala CM Pinarayi Vijayan Extend Birthday Greetings.
In a career spanning about six decades, Yesudas has sung about 80,000 songs! Most of them are in Malayalam cinema, but it is believed that Yesudas has sung for most of the Indian languages except for Punjabi, Assamese, Konkani, and Kashmiri, as per an article in The Hindu. Speaking about his short-spanned stint in Bollywood, Yesudas was active in Hindi cinema in the '70s and '80s, and have sung very popular songs. His tracks from Chitchor, Sunayana, Sadma, Alaap, still mesmerise the lovers of good music. After the '80s, Yesudas kept his distance from Hindi cinema, occasionally breaking the void with songs like "O Bhanware" (Daud), the indie track "Chamak Cham Cham" et al.
KY Yesudas has turned a glorious 80 on January 10, 2020. On the occasion, let's pay a tribute to him by picking up 8 of our fave Hindi songs made immortal by his golden voice.
Gori Tera Gaon Bada Pyara (Chitchor)
Fairly speaking, I could pick any song sung by Yesudas from the Rajshri film here. "Aaj Se Pehle Aaj Se Zyada", "Jab Deep Jale Aana" and "Tu Jo Mere Sur Mein" are all beautiful, but "Gori Tera Gaon" has been the most popular track. Music by Ravindra Jain. Kerala Piravi Day: 7 Beautiful Malayalam Songs That Celebrate the Charm and Diversity of God's Own Country.
"Surmayee Ankhiyon Mein" (Sadma)
Ilayaraja's lilting composition "Kanne Kalaimaane" from the Tamil film, Moondram Pirai was recreated for its Hindi remake, Sadma. Yesudas did the honours of lending his voice to the track again and it was as magical as the original.
"Kahan Se Aaye Badra" (Chashme Buddoor)
The Sai Paranjpye classic comedy features a very fabulous semi-classical track, composed by Raj Kamal, which is the highlight of the soundtrack. Yesudas once again shows why he is the master of alaaps here, while Haimanti Sukla does a fine job of matching up with him here. The lack of such lovely songs is another reason why the David Dhawan remake of this film sucks!
"Koi Gata Main So Jaata" (Alaap)
Hrishikesh Mukherjee's Alaap is the only movie where Yesudas has sung for Amitabh Bachchan.  The movie, living up to its title, has some really nice melodies, but the lovely "Koi Gata Main So Jaata" is my personal fave. What's special about this song is that the lyrics are written by Big Big's father, the late Harivanshrai Bachchan.
"Teri Tasveer Ko" (Sawan Ko Aane Do)
Yesudas seemed to be Rajshri's favourite singer in the '70s, as he was also brought in the sing most of the tracks in this 1979 film. Composed by Raj Kamal, Sawan Ko Aane Do, starring Ramayan fame Arun Govil and Zarina Wahab, had some really good tunes like "Chand Jaise Mukhde Pe",  "Tujhe Dekh Kar",  "Tere Bin Soona" and the above brilliant track "Teri Tasveer Ko".
"Zid Na Karo" (Lahu Ke Do Rang)
Who thought the Disco King Bappi Lahiri could compose such mellow tracks when he can? Or is it the Yesudas effect? They just don't make songs like "Zid Na Karo" anymore. There is also a version sung by Lata Mangeshkar, but we prefer the Yesudas one.
"Ni Sa Ga Ma" (Anand Mahal)
The next two entries, we celebrate two very fantastic songs of Yesudas that saved itself from getting lost in unreleased films. The 1977 film Anand Mahal never saw the light of the, but the soundtrack of the film, composed by Salil Chaudhary, continues to entrance the listeners. The most beautiful of the lot is "Ni Sa Ga Ma", where the minimal use of instruments enhances Yesudas' mellifluous voice.
"Shadjane Paya" (Tansen)
Yesudas is at his best when you give him a classical track that challenges the singer in him. Bollywood had offered very such little opportunities to him, and sadly, the one movie that did the most, never got released - Tansen. It is said that the late composer Ravindra Jain tried several singers, but none could do justice to his difficult compositions. Then Yesudas stepped in, and together they created magic. "Shadjane Paya" was the most difficult song to sing, as it had a different mix of ragas like Bilaval, Bhairav, Yaman Kalyan, Khamaj, Asavari, Bahar, Darbari etc and took three days to record. But Yesudas makes it sound like a piece of cake with his effortless singing.
Also, listen to this another beautiful composition from the film.
It is claimed that Ravindra Jain, who was born blind, had said he only wanted to see one person's face if he ever gained sight, and that was Yesudas'. Poignant, if true!