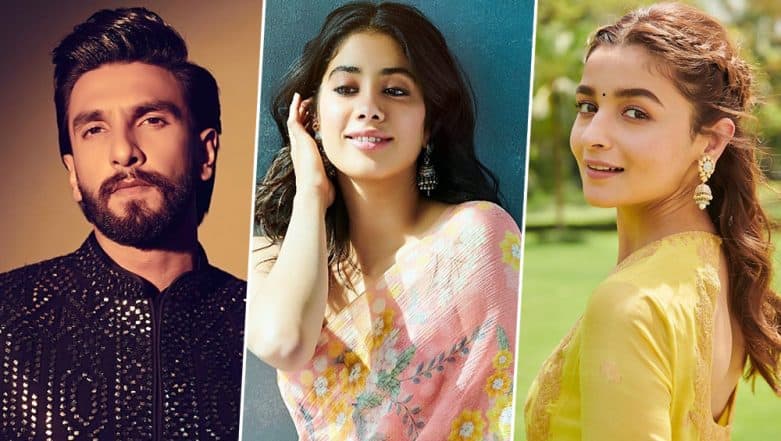 Karan Johar's debut directorial Kuch Kuch Hota Hai starring Shah Rukh Khan, Rani Mukerji and Kajol in lead roles recently completed 21 years since its release The film was chosen for a special screening at the 10th Indian Film Festival of Melbourne (IFFM) 2019 and director Karan Johar was in attendance for a special event to elaborate a conversation on cinema with the Australian audience at the film festival. The film also won an award for being the All Time Favorite Film at the festival.
During his interaction at the event, Karan was asked about planning a reboot of Kuch Kuch Hota Hai. While it certainly would be fun to catch a remake of the film, we bet you are more excited to know who would be cast in the reboot of the film. When asked about the same, Karan spilled the beans on his wishlist for the remake and said, "On my wishlist would be Ranveer Singh as Rahul. He has that mad intensity as Shah Rukh Khan. Alia Bhatt as Anjali. She has the spunk and Janhvi Kapoor as Tina because she has the poise and balance of the part."Karan Johar to Hoist Indian Flag at IFFM 2019, Says 'Unity Centres Around the Pride of Our Tricolour'.
We have to say after watching Gully Boy, we have no doubts about Alia and Ranveer bringing the right chemistry for this film and as for Janhvi Kapoor, it would certainly be interesting to see her play a character like Tina.
The film completed twenty years in 2018 and Karan had a grand party to celebrate the anniversary. The film dealt with a classic love triangle as Anjali (Kajol) falls for her best friend Rahul (Shah Rukh Khan) who is in love with Tina (Rani Mukerji).
While Karan doesn't plan to make this reboot anytime soon, he will be coming up with a period drama next. Takht goes on floors next year and stars Ranveer Singh, Janhvi Kapoor, Alia Bhatt Anil Kapoor, Kareena Kapoor Khan, Bhumi Pednekar and Vicky Kaushal.