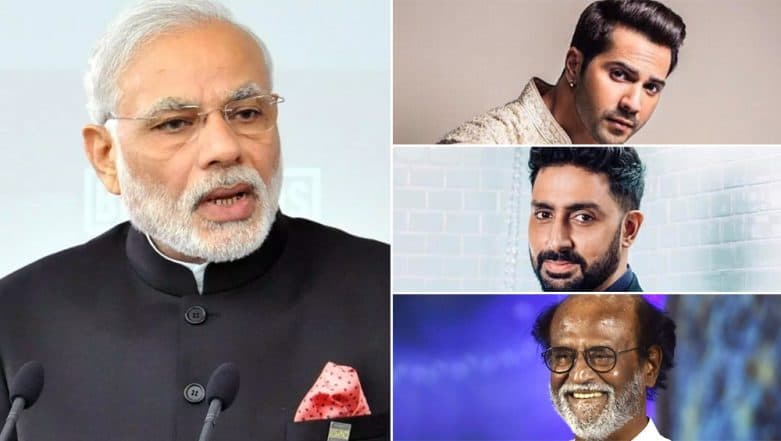 India is currently wired into the heating storm of 2019 Lok Sabha election results. With BJP flagging a clear win, the Narendra Modi led government seems to be coming to power, yet again. The 2019 elections remind us of the historic 2014, when BJP made its mark with majority votes. This year too, the political party is all geared up to set some new records. To cherish this record-setting triumph, many celebrities from the showbiz world congratulated Narendra Modi on their Twitter handles.
As soon as the results of the 2019 elections started pouring, a wave of happiness started spreading across the internet. The BJP supporters are roaring their delight on Twitter and several hashtags like #ModiAaRahaHai and #ModiAaGaya have already begun trending on social media. Many celebrities from the world of entertainment, including Anupam Kher, Rajinikanth, Riteish Deshmukh, Varun Dhawan, Preity Zinta, Abhishek Bachchan, R Madhavan, and others, have extended their hearty congratulations to PM Narendra Modi.
Here are the celebrity tweets:
Sonam Kapoor:
Congratulations to the Bharatiya Janata Party on it's win and to its leader, honourable Narendra Modiji. We know you will lead India and it's citizens to the greatness you have promised us. pic.twitter.com/io7XSL0Btg— Sonam K Ahuja (@sonamakapoor) May 23, 2019
Anushka Sharma:
Congratulations @narendramodi ji. India is looking to scale newer heights of growth and success under your leadership.— Anushka Sharma (@AnushkaSharma) May 24, 2019
Akshay Kumar:
Heartiest congratulations Hon. Prime Minister @narendramodi ji on the historic win. All your efforts to advance the nation and put it on the global map have been acknowledged. Wishing you an even more successful second term.— Akshay Kumar (@akshaykumar) May 23, 2019
Varun Dhawan:
The country has decided congratulations hon prime minister @narendramodi sir on your victory. Looking forward to the future under you guidance and leadership where all Indians move ahead together #JAIHIND

— Varun Dhawan (@Varun_dvn) May 23, 2019
Abhishek Bachchan:
— Abhishek Bachchan (@juniorbachchan) May 23, 2019
Rajinikanth:
Respected dear @narendramodi ji

hearty congratulations ... You made it !!! God bless.

— Rajinikanth (@rajinikanth) May 23, 2019
Anupam Kher:
Mom's congratulatory Video note to Prime Minister @narendramodi & his team. She is repeating, "मैंने बोला था"। Difficult for her to contain her sense of triumph. She has taken it personally. But that is exactly how the whole country has taken it - personally.😍😎🇮🇳 #DulariRocks pic.twitter.com/BBLFd7XVbh

— Anupam Kher (@AnupamPKher) May 23, 2019
Ekta Kapoor:
The honourable @narendramodi proves once again that ppl love him !

— Ekta Kapoor (@ektaravikapoor) May 23, 2019
Riteish Deshmukh:
India 🇮🇳 has decided- Democracy needs to be celebrated. Many Congratulations to our Hon Prime Minister @narendramodi ji on this huge verdict.

— Riteish Deshmukh (@Riteishd) May 23, 2019
Preity Zinta:
Tonight is going to be special cuz I'm staying up all night to watch the #Indianelectionresults 🇮🇳 #lanights #ting

— Preity G Zinta (@realpreityzinta) May 23, 2019
R Madhavan:
🇮🇳🇮🇳🇮🇳🇮🇳🇮🇳🇮🇳time coming up TO VERY QUICKLY PUT THE CAMPAIGN AND REAULTS ASIDE-& work TOGETHER & surge ahead as a NATION. The people have spoken. The results are emerging-But the thing is-WE HAVE TO WORK TOGETHER NOW.. to Get INDIA the glory she so richly deserves. Jai Hind.

— Ranganathan Madhavan (@ActorMadhavan) May 23, 2019
Paresh Rawal:
Had said earlier and will repeat again - Sardar Patel had Unified India and @narendramodi will not let it disintegrate . Relax India we are truly in Safe hands . Jai Ho . Vande Matram .

— Chowkidar Paresh Rawal (@SirPareshRawal) May 23, 2019
Siddharth:
Congratulations #PrimeMinister @narendramodi ji for a historic win in the #Elections2019. I hope you will take us to great heights. I promise to always voice my honest opinions in the interest of our great nation as a citizen without fear. Please spread love. God bless. Jai Hind.

— Siddharth (@Actor_Siddharth) May 23, 2019
Asha Bhosle:
The Indian electorate has voted wisely. Congratulations to Hon. PM Modi, NDA & all BJP party cadres who have worked tirelessly to take our country into a Golden Age that is long overdue. Jai Hind 🙏🏼

— ashabhosle (@ashabhosle) May 23, 2019
The election results are trending today on the full swing. Though BJP is swaying the ground with a clear majority, we still await the final results. Stay tuned to this space for the latest updates from your favourite celebrities and the world of entertainment.