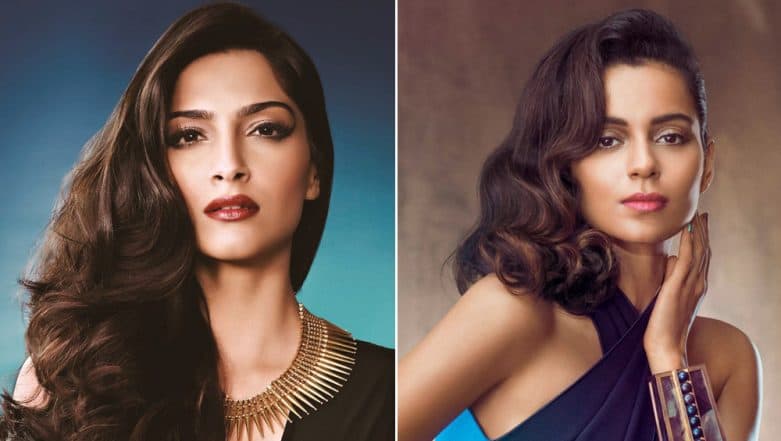 Sonam Kapoor may be one of the targets of Kangana Ranaut's anti-nepotism barbs, but the former always has praises to shower on the latter. So we were surprised to hear Sonam call Kangana a 'troublemaker' in a chat show. But Kangana Ranaut fans or the actress herself, need not take any offence! For Sonam only had good things to say about Kangana and even the tag 'troublemaker' has to be taken in that sense! Sonam Kapoor Spills Bedroom Secret About Making Love With Lights on; Wants to Mentally Murder Shahid Kapoor! (Watch Video)
It all happened when Sonam Kapoor was the special guest on celeb stylist Anaita Shroff Adajania on her show, Feet Up With The Stars (currently streaming on Voot).  During the show, Anaita asked Sonam which celeb she would like to associate with different hashtags. For #troublemaker, Sonam said, "Kangana Ranaut."
But before, she could fall in 'trouble for this, Sonam added, "In the best way possible. I mean she wants to break the glass ceiling and you need to be a troublemaker to do that. Not a troublemaker, but someone who stirs the pot and I think she does it in the most incredible way. Kudos to her for that!" Manikarnika Controversy: Kangana Ranauts Film Might Not Make It For The Clash With Hrithik Roshans Super 30; Hers Why
We wonder how Kangana and her strong-fanbase would take this comment, though the essence is definitely true. After all, Kangana is not the kind of actress who takes things lying down and we are in praise of that plucky attitude of hers!