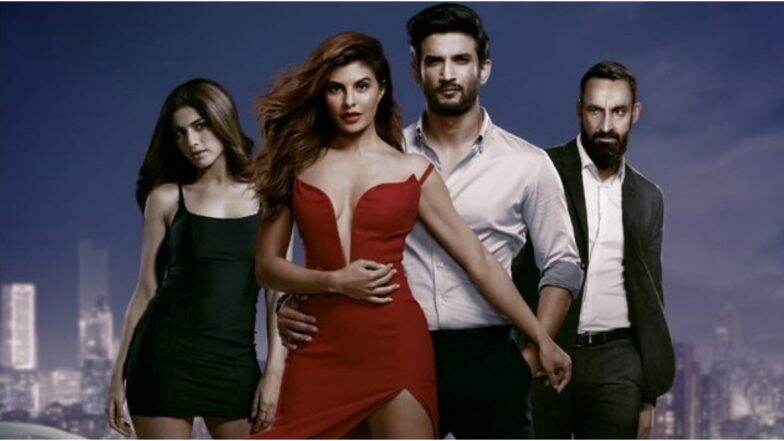 Sushant Singh Rajput and Jacqueline Fernandez's Drive is out on Netflix but seems like it will take a while to come under your watchlist. The movie has received very harsh reactions from the movie critics and we don't really blame them for the same. Imagining a product as shoddy as this from Dharma Productions makes you pinch yourself twice and we aren't even exaggerating. While the premise definitely sounded promising on the paper, its execution lacked any of the wow factors. Drive Movie Review: Sushant Singh Rajput, Jacqueline Fernandez's Netflix Film Has Fun, Twisty Moments but Is Let Down by Bad VFX and Silly Plot Contrivances.
Now when the film's lead actor refuses to promote the movie, you can imagine the intensity of 'bad product' we are talking about. Drive is currently the talking point on Twitter with Twitterati bashing it left, right and centre. Blame its bad VFX or anything else, but Drive is exploding into some hilarious memes on social media and we thought of sharing the same with you guys. So go ahead and have a look at some of them right below.
What the crap is Drive?
@karanjohar - dude, u need to take a break, move out of south Mumbai, travel to real places, watch real movies and then decide the kind of movies you want to make!! Stop fooling the audience now for god's sake please! What the crap is #Drive ???

— Ruchika Tandon (@ruchikatan) November 1, 2019
Uh-Oh
*After watching Drive on Netflix*#Drive #Netflix #netflixindia pic.twitter.com/kANiZ1gtIp

— Areeb (@areebansari_96) November 1, 2019
VFX Sucks
IF YOU ARE WATCHING DRIVE ON NETFLIX, KINDLY TAKE OUT YOUR BRAIN KEEP IT IN REFRIGERATOR THEN WATCH THIS MOVIE.

MOST IMPORTANT DON'T DO ANY PHYSICS AND MATHEMATICS BECAUSE VO YAHA FAIL HAI AND IN THE LAST I WOULD LIKE TO ADD

VFX SUCKS🤣

— pulkit sharma (@boyonbatmobile) November 1, 2019
That bad, yes!
First five minutes and you know why drive was released on Netflix and not in theatres.#Drive

— Èmyle Aziz (@EmyleSays) November 1, 2019
Speaking about actors not promoting it
Animated car chase scene

Matlab kuch bhi story

Creepy editing

Even lead actor isn't promote his film#Drive pic.twitter.com/dodwEA4U50

— Ordinary _moviebuff (@Ordinarymovieb1) November 1, 2019
Total waste of two hours
True... It's a total waste of 2 hours...

Thank god the producers didn't release this shit #Drive in theaters or else it would have been a Friday release, Sunday out....!!!!@NetflixIndia @DharmaMovies https://t.co/6Sc6aJhZdg

— Bhavesh!!! (@BhaveshSharma49) November 1, 2019
Tarun Mansukhani, known for directing Dostana was quite excited about his second project but sadly, it failed to cash in any good reactions. And now with Twitterati slamming in on a social platform, we think it was a wise decision on Karan's part to allow it to release on an OTT platform.