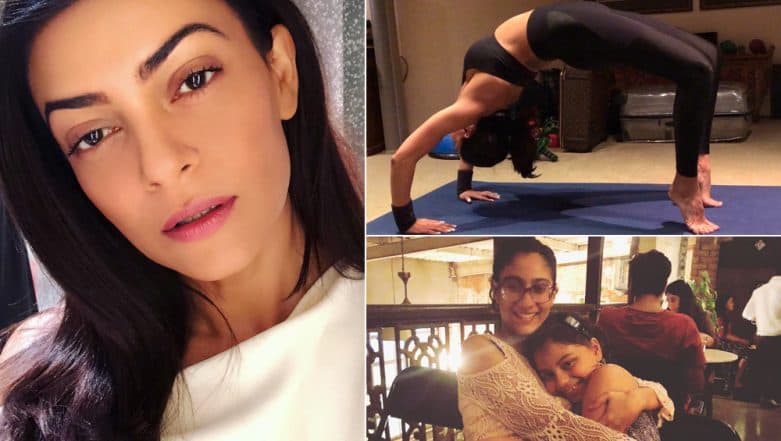 Dear Sushmita Sen, if you are reading this, I am a big fan! So it goes without saying that I stalk you on Instagram all the time! As a fangirl and as a reader,  all I have to say is that your Instagram is so full of positivity and with the kind of comments you get on your posts, it is very obvious that you are a huge inspiration to many out there! So all those of you, who are still not following the diva on social media, I did some stalking on your behalf and have decoded Sushmita Sen's Instagram that will compel you to follow her! Sushmita Sen Shows off Her Sexy Belly Dancing Moves and Proves Why NOBODY Can Do 'Dilbar' Better Than Her! - Watch Video.
Work Your Ass Out!
Just in case one wasn't enough
You'd seriously want to move your lazy ass and start working out once you see Sushmita Sen's workout videos on Instagram. She has always promoted fitness and it has now become a lifestyle for her. In fact, while she was on a vacay to Dubai recently, she didn't think twice before working out there as well! That's quite some dedication, no? No wonder she has just the perfect body. Sushmita Sen Is Partying Hard but Working Out Harder – See Pic.
Love the Skin You Are In
It is so important to take a moment and appreciate yourself every once in a while. In today's day and age, where people suffer from major self- esteem issues and are not so confident about their looks, Sushmita Sen promotes self- love and you need to take cues from her on that.
Appreciate the Goodness Around You
You will often see the actress sharing photos of her daughters Aaliyah and Renee and how blessed she is to have them around. People, it is so important to appreciate those around you and let them know how much they mean to you!
Every Once in a While, Travel! 
Travel is such a stress-buster for so many of us and Sushmita too makes it a point to go somewhere every once in a while. She takes her daughter along on vacations and mind you, the pics are beautiful! So basically, she lives her life to the fullest!
Let's hope the hottie continues to keep inspiring and motivate us to do better and be a better version of ourselves! We love you, Sushmita Sen!