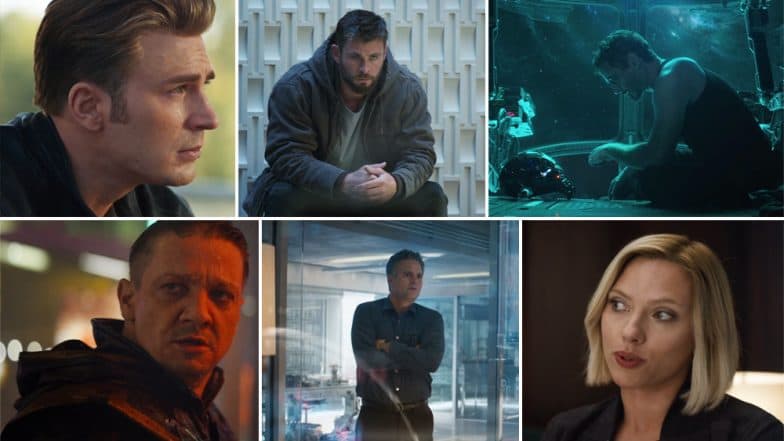 It's here! It's here! The first teaser trailer of Marvel's Avengers 4 has landed! While the excitement for the trailer has surged to an all new level, not everything is peachy about it. For this is the gloomiest Marvel trailer I have seen in years. This is like 'Winter Has Come' for Marvel Cinematic Universe, after Thanos snapped half the living beings out of existence in the last film, Avengers Infinity War. We have reached the Endgame, and that's exactly what the title is - Avengers: Endgame! Avengers 4 Trailer Reveals Title to Be Avengers: Endgame – Watch Video.
If you remember the previous movies, the word 'Endgame' has been used twice - once by Tony Stark in Avengers: Age of Ultron and then by Doctor Strange in Infinity War. Anyway, back to the trailer, it begins with a very depressing tone, as Tony Stark (Robert Downey Jr), still stranded in space, records a voice note for Pepper Potts (Gwyneth Paltrow) through his helmet, in which we learn that he is soon to run out of food and oxygen. Bummer! Avengers 4 Trailer Will Have No Loki and Vision? Both Killed by Thanos in Avengers: Infinity War, Russo Brothers Confirm!
On Earth, the surviving Avengers, Captain America (Chris Evans), Black Widow (Scarlett Johannson), Thor (Chris Hemsworth) etc are seething in defeat, as they take toll of their 'dead' comrades. We also see Hawkeye back in a new form, Ronin. It's only towards the end that there is some hope of cheer when Scott Lang aka Ant-Man (Paul Rudd) arrives, and Captain America sees hope! Marvel's Avengers 4 Trailer: 10 Things You Should Expect From The Most Anticipated Promo of the Year.
Watch the First Teaser Trailer of Avengers 4 here -
Avengers Endgame is all set to release in April 2019, as per the trailer. The movie is directed by Anthony and Joe Russo.