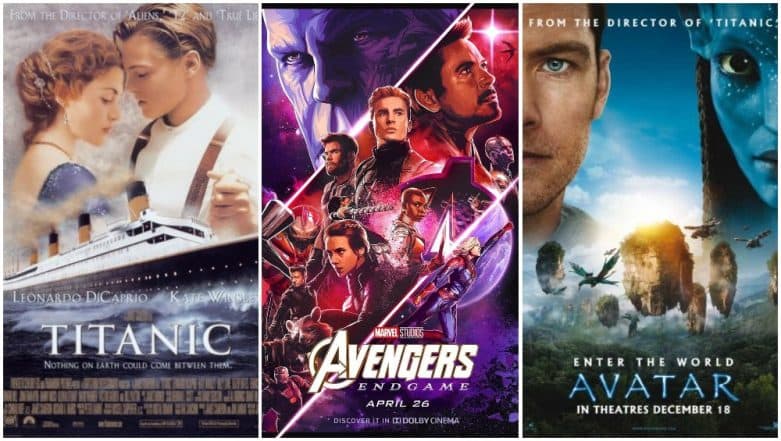 James Cameron, the director of Titanic and Avatar, two of the highest grossing films of all time, had once shown disdain for the culture of superhero films that are reigning over at the box office, especially the Avengers films. Interestingly, Cameron himself was once touted to direct a Spider-Man film. Perhaps, as some weird sense of justice, it took a superhero film to topple the long-standing record of one of his films, while the other one is waiting to be toppled. Avengers: Endgame Box Office Collections: Marvel Film Becomes Second Highest Grosser of All Time, Beats Titanic With $2.2 Billion Worldwide Total.
Avengers: EndGame has recently managed to take the second position in the highest grossing movies worldwide. It has managed to outearn the collections of Titanic, which is $2.188 billion. What's so special is that EndGame managed to do so within just 11 days. With the film going on full force in the theatres nearly everywhere, fans are also expecting the film to take on the number one position. That means beating the collection of Avatar, which stands at $2.8 billion. The question is when!
As the record doesn't seem very far away, Marvel fans are already making memes and jokes on Avatar and James Cameron.
Tweet #1
Avengers Endgame has surpassed Titanic and has become the 2nd highest-grossing movie ever.

Avatar... watch out 😏 pic.twitter.com/JIOfsiPotQ

— Ken Xyro | ᕕ( ᐛ )ᕗ (@KenXyro) May 5, 2019
Tweet #2
James Cameron finding out that Titanic has been beat and Avatar is next: pic.twitter.com/UeBbubVZj1

— Sean King (@SeanKing137) May 5, 2019
Tweet #3
Welcome to the 2B club, #AvengersEndgame and here they are charging through beating Avatar, they're coming for you James Cameron. 😉🔥 pic.twitter.com/CZiDBXEbCF

— Big Lebowski 😎 (@vindycateed) May 5, 2019
Tweet #4
Endgame really about to finally be the movie to dethrone Avatar pic.twitter.com/iLteMoXWgE

— ⧗ [SPOILERS] (@wandaswidcw) May 5, 2019
Tweet #4
James Cameron's Avatar: $2.8 billion over 9 months.

Marvel's Avengers Endgame: $2.1 billion over 9 days. pic.twitter.com/WwBkVuexor

— MrTuesday (@wwetuesday) May 5, 2019
Tweet #5
James Cameron when Endgame passes Avatar pic.twitter.com/Wvy8yod7y4

— 123 (@wH0cARES117) May 5, 2019
Tweet #6
Marvel Fans to James Cameron once Avengers: Endgame passes Avatar for highest grossing film of all time worldwide... pic.twitter.com/SO81apwL8w

— Captain Jamerica (@WackDubb) May 5, 2019
Tweet #7
avatar and avengers endgame are the two highest grossing films in the world..............it really be blue zoe saldana vs green zoe saldana pic.twitter.com/nyPAWIdPDF

— abbie has spoilers (@wIwthor) May 5, 2019
Here are some of the milestones Avengers: EndGame was the fastest to achieve.
#1 Fastest to Earn $500 Million in North America (8 days)
Beating: Star Wars: The Force Awakens (10 days)
#2 Fastest to Earn $500 Million Worldwide (3 days)
Beating: Avengers: Infinity War (5 days)
#3 Fastest to Earn $1 Billion Worldwide
Beating: Avengers: Infinity War (11 days)
#4 Fastest to Earn $2 Billion Worldwide
Beating: Avatar (47 days)
In India, Avengers: EndGame is all set to gross Rs 300 crore at the box office, making it the first Hollywood film to do so. It is also one of the fastest films to earn that record sharing it with Baahubali 2.