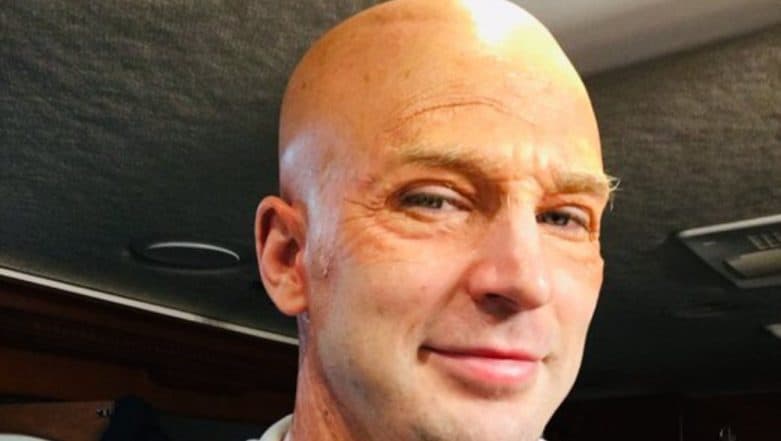 Avengers: Endgame opened in theatres two weeks back and the movie's crew has given fans a go-ahead for discussing spoilers. So, we are not even going to apologise for not warning you about major spoilers in this article. Even Chris Evans dropped a major Endgame spoiler on Twitter without any warning. So, if you want to get mad, his timeline would be the more appropriate place.  Chris could be seen in the prosthetic makeup of an old man, which of course is the obvious nod to the ending of his latest superhero film. Avengers: Endgame: Robert Downey Jr Shares BTS Pictures of the Final Scene of the Film and Fans Can't Stop Saying, 'Love You 3000'.
It was being speculated for long that Chris Evans' journey with the MCU has come to an end with the 22nd film. The post-climax scenes of Endgame pretty much confirmed that speculations when Chris' character, Steve Rogers, appeared as a really aged man, who passes on the Captain America mantle along with the shield to his friend. What a twist!
Halfway there pic.twitter.com/frBsW4x4hQ

— Chris Evans (@ChrisEvans) May 10, 2019
Chris took to his Twitter to share how he got the look for the film. It was a lot of prosthetics. Though, fans are busy commenting on the picture that the actor is looking just as hot as ever. Avengers: Endgame Will Stream Exclusively on Disney Plus From This Date!
Avengers: Endgame wraps up the storyline of 11 years worth of film. Moving on we have, Spider-Man: Far From Home as the final film of phase 3 of MCU. There are a few web-series that have been announced post that. But no confirmed news about the next Marvel movie has come out yet. Chris Evans is expected to reprise his role (voice only) in the animated Dinsey Plus original What If, which will see Peggy Carter, instead of Steve Rogers, get injected with teh super-power serum.