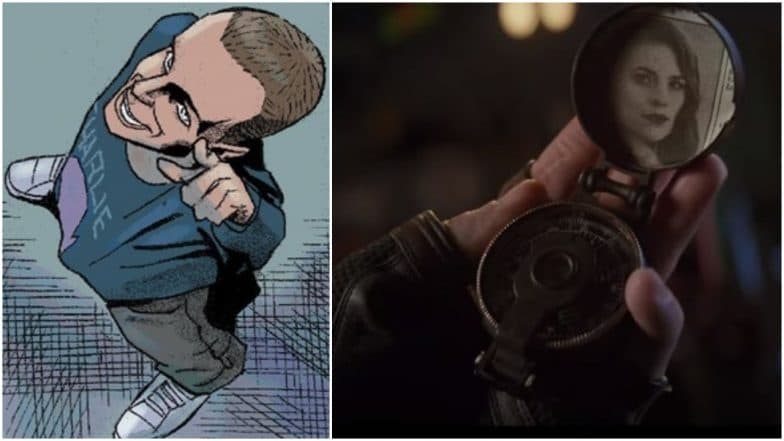 Oh man! How many more theories can we have about Avengers 4 aka Avengers Endgame? Ah, well, the saga will continue till the movie comes out on April 26, and will persist even after that till they exhaust every possible nuance in the film. Considering these theories are as exciting as the films themselves, some even better, we find very less reason to complain. So what's the new theory? It does have a little something to do with with the first trailer of the film. Avengers: End Game – Get Ready to Meet a Brand New Superhero Straight from Quantum Realm.
There have been talks that Avengers Endgame could introduce new characters that would set up Marvel Phase 4. This new theory suggests that there is a scene in the trailer that hints at an obscure superhero being introduced. Remember the scene where Captain America (Chris Evans) looks at a compass with Peggy (Hayley Atwell)'s picture on it and then closes it? The theory suggeststhat it might have less to do with remniscing about an old flame.
A Reddit user named u/Dyberzz has posted this new theory on the board that implies that we, I mean Captain America is going to meet Adam Roderick. New Fan Theory Of Avengers: Endgame Proposes That Vision Who Died In Infinity War Will Save The Day. How?
Check out his theory below -
"In the trailer, Captain America has that same object he had in the 1st cap movie, and in this movie, we can see its pointing Northeast! Assuming they went back to their base in New York and they would head Northeast, if we look in the map, we can see a place called Svalbard, and who can they find there? A guy called Adam Roderick! And what are his powers? Well, he has the power to influence his surroundings as well who listens to him and he can teleport everywhere he wants! Will he be the key to save Ant Man?"
In case you don't know much about Adam Roderick, he is an Inhuman who gets his powers through Terrigen Mists. He has the powers to turn his thoughts into reality. Now this power can easily match what Thanos (Josh Brolin)' Reality Stone can do, which is also what Scarlet Witch (Elizabeth Olson) could also have done before she was snapped! Avengers: Endgame, Captain Marvel, Shazam! - 9 Superhero Movies We Are Super-Excited To Watch in 2019!
Here's the trailer of Avengers Endgame - 
Earlier there was another theory about another obscure superhero being introduced called the Black Knight, who has the power to save Ant-Man (Paul Rudd) from Quantum Realm. While these theories are definitely interesting, we really don't think these new superheroes, if they really are introduced, would play such big roles in the film.