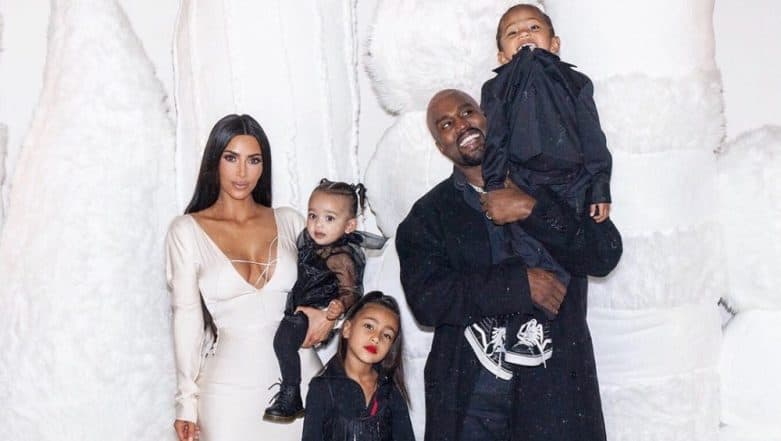 Kim Kardashian and Kanye West are stoked to welcome their newest addition, Baby No. 4. The couple, who announced earlier this year that they are expecting their fourth child through surrogacy will be expecting the baby around May-June. The biggest challenge for them has been coming up with a name for their fourth baby. Considering how three of their babies have some eccentric but cool names, they want to give their fourth one an intriguing name as well.
Although initially, they did plan on naming their little one to honour Kim K's brother Rob Kardashian and late father. However, currently, they have put a stopper on going ahead with Rob as the name for their fourth baby. As per a report on E! News, Kim feels that the name wouldn't match with the unique names of the other siblings. Little Rob might be the only one without an enigmatic name compared to his siblings, is what Kim K feels. During one of the episodes of Keeping Up With The Kardashians, Kim had revealed that she cannot completely write off that name due to a surreal experience she had when she was on a vacation.
"You'll see when we go to Bali there might be a deeper reason for why I would want that name," she revealed on the show. Further adding that "This blind palm reader gave me some really crazy information when I was in Bali, so you will see that." Well, one thing is certain, the baby is definitely going to be pampered just like the other Kardashian-West babies.
The Kim Kardashian - Kanye West clan
View this post on Instagram
Another update states that Kim is planning a zen-like CBD-themed baby shower. "This year, because I am freaking out so much, I just want a zen-like CBD-themed baby shower," the beauty mogul revealed to E! News. "I just want massages, I want to do like a tea ceremony with crystals and we're going to have a drink at this baby shower — we're not pregnant." It won't b the typical baby shower expected by people as, "This is the massages for all, like just meditation, calm before the storm baby shower."