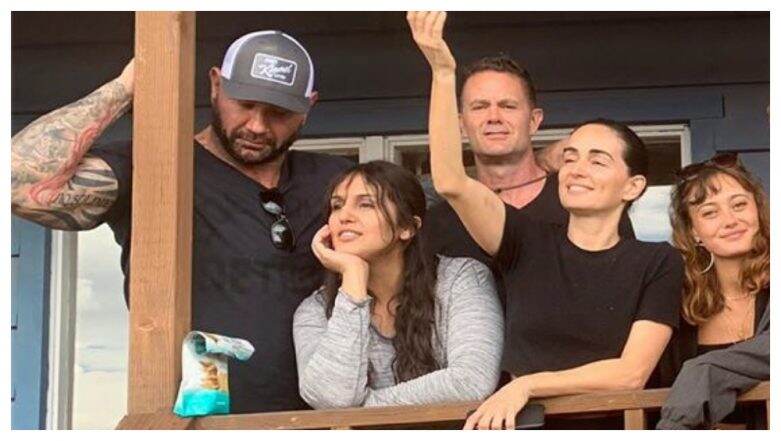 Huma Qureshi is the new Netflix favourite. The actress has already starred in the original series, Leila, which was loved by the majority. Now, Huma is busy shooting for the film, Army of the Dead, for the streaming platform. The movie is being directed by the visionary filmmaker, Zack Snyder, who has titles like Justice League, Batman VS Superman: Dawn of Justice and Man of Steel under his belt. Well, Huma has certainly hit the jackpot. The actress took to her Instagram page to share a picture from the sets of the film. She can be seen posing alongside the stellar, ensemble star-cast, which also includes Dave Bautista.
While everyone in the frame is busy looking at the camera, Dave ha shit priorities straight. He can be seen staring at a food packet. Same, Dave, same. Leila Season 1 Review: Huma Qureshi and Siddharth's Brilliantly Enacted Netflix Series Is a Claustrophobic Vision of a Terrifying Future.
Check out the picture from the sets of Army of the Dead:
Army of the Dead started shooting on July 15 in Albuquerque, New Mexico. The second shooting schedule of the film will be held in Atlantic City. The zombie movie has been described as the ultimate heist film. As per the official synopsis, a group of mercenaries plan a heist on a Las Vegas casino amidst a zombie outbreak.
Army of the Dead also stars Garret Dillahunt, Raúl Castillo, Nora Arnezeder, Matthias Schweighöfer, Samantha Win and Rich Cetrone, most of whom can be spotted in the picture posted by Huma. We cannot wait to watch Huma kick some zombie-butts in this film.