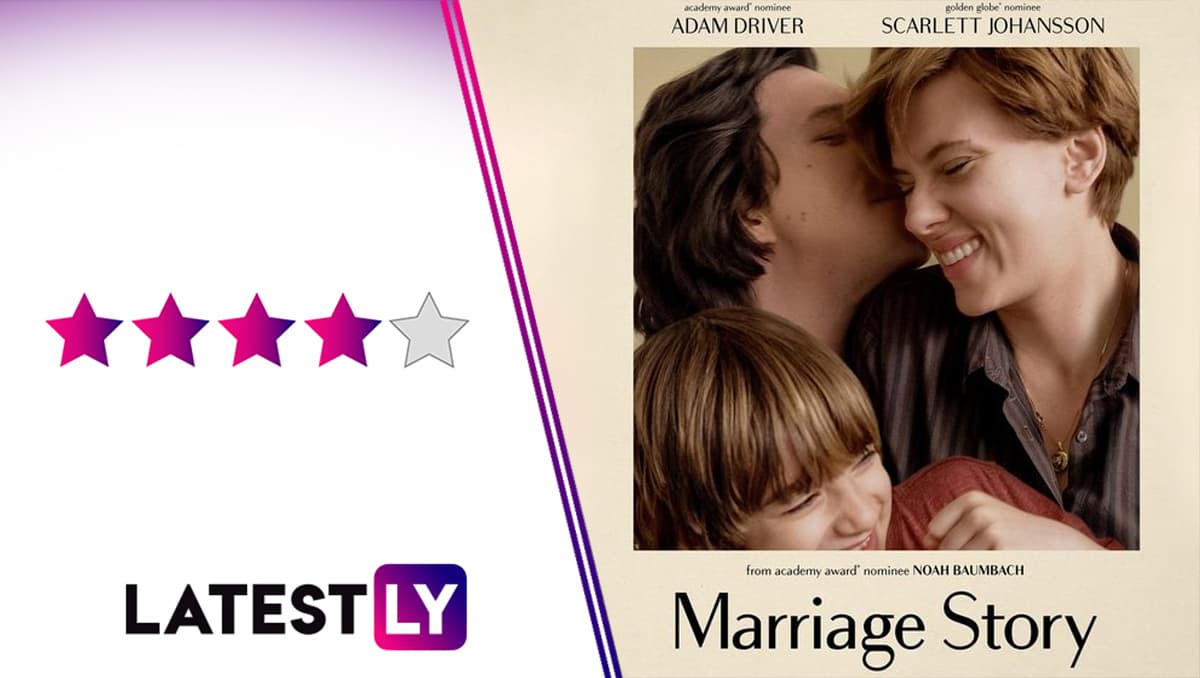 Marriage Story Movie Review: When two people decide to get married it's not only because they love each other, it's also because they see themselves wanting to share a life together. The same way, when a couple is headed for divorce, it's not just because they fell out of love but also because they no more share a life and are two individuals who aren't on the same page. Scarlett Johansson and Adam Driver's Netflix film, Marriage Story is exactly about this. A couple who's going through a divorce but also trying to hold onto the good bits of their relationship and looking for an amicable separation for the sake of their son. When Laura Dern Cried Hard After Reading Netflix's 'Marriage Story' Script.
The film beautifully picks up from Charlie (Driver) and Nicole (Johannson) talking about what they love the most about each other but unfortunately, this is for their arbitration session. It's a montage of a fulfilling relationship filled with laughter, love and mutual respect. After 10 years of living together in New York with their son, Henry (Azhy Robertson), the couple finds themselves moving further away from each other than ever phsyically as well as emotionally. Nicole at one point says Charlie is even a more a New Yorker than a native but she never really formed a deep connection there. Charlie's the self-involved, talented director who's running a theatre company that has Nicole as its lead actress. She's turned down a budding film career to work with Charlie who is extremely passionate about his work and says Nicole is his favourite actress. It is somehow how their work dynamic where Nicole often gives into Chalie's vision that has seeped into their relationship and ten years on, she realises she wants different things.   She's signed up for a TV pilot to be shot in LA, with the eventual hope of settling on the west coast, something tha she always wanted but Charlie didn't.  Also, Charlie's infidelity further pushes this flailing relationship off the edge.
What remains beautiful throughout the film is that both Charlie and Nicole earn our empathy as they try to make their individual lives whilst also trying to be parents to their son after the separation. In most cases, we have seen how ugly legal separations can get and we are not novel to custodial battles being shown on celluloid but Noah Baumbach never really wants to get into that. It explores something beyond  Ingmar Bergman's Scenes From a Marriage which was on similar lines. In a way, Marriage Story is also more personal considering Baumbach's own divorce from actress  Jennifer Jason Leigh.
Despite Charlie and Nicole's insistence on going through an amicable, gentle separation, lawyers soon get involved and representing Nicole is the feisty, Nora Fanshaw played to perfection by Laura Dern. Baumbach smartly inserts a whole new angle of gender-dispute that goes on in the legal field through Fanshaw and Charlier's lawyer Jay who are up for a "street-fight" in court even though their clients want nothing of that sort.
While a story of separation and a couple falling out of love seems like a grim watch, you'll find yourself laughing at the most unexpected points as humour finds itself in strange situations in this film. Particularly, a scene where Nicole asks her sister to hand over the divorce papers to Charlie or the one where Nicole's mother, Sandra (Julie Hagerty) has an exchange with Charlie about their emails. There's also the portion with a poker-faced social worker (Martha Kelly) that will leave you in splits.
Even as the writing and the performances come together brilliantly for this film, it drags itself a little too far at certain portions as it tries hard to separate itself from other divorce dramas. There are also a few portions where unintentionally Baumbach seems to have favoured Charlie's side of the story and even though he at no point carves out Nicole as the villain, the balance seems to shift at a few points. Marriage Story Teaser: Scarlett Johansson and Adam Driver Navigate Romance in Two Heartbreaking Trailers (Watch Video).
Baumbach's restrained direction further makes this film blossom. There are frequent close-ups of Driver and Johansson as they lay their emotions bare, the messy cries leave a great deal of impact. Especially a scene where they finally let all their emotions out and realise what let to the breakdown of their marriage. One of the perfect frames in the film for me was when Charlie and Nicole are heading back home after their separation is final and Nicole has even received a farewell from the theatre company and is set to move to LA. We see Driver and Johansson taking the train home and while she is seated, we see Driver standing across the aisle. They are almost like two strangers, that's how distanced their relationship is and Baumbach captures the physicality of it perfectly. Robbie Ryan's cinematography works its magic as Driver keeps shuttling between the East and West coast to see his son. The 'sunny' and 'spacious' remarks that often find its way in conversations regarding the classic New York Vs LA war come alive through Ryan's visuals.
Check out the Trailer of Marriage Story:
Performances:
Given that Adam Driver and Scarlett Johansson are actors who are tied to two of the biggest franchises in Hollywood, (Star Wars and Avengers) their Kylon Ren and Black Widow characters are completely forgotten as they essay Charlie and Nicole in Marriage Story. This may be Johansson's finest performance in the past few years and will also remain a memorable one. As for Driver, he is solid gold in this film and the moment that he shines the most in this film is towards the climax where he breaks into a musical number by Stephen Sondheim, expressing Charlie's pent-up emotions, anguish, emptiness and the feelings left behind. Good luck, holding back your tears during this one!
If you thought Laura Dern's Renata from Big Little Lies was the most badass she could get, watch her Marriage Story and you will be convinced that we need to see her in a solo movie where she's just putting everyone in their place (especially, narcissistic, megalomaniac men).
Final Thoughts:
Scarlett Johansson and Adam Driver bare it all emotionally as Nicole and Charlie and keep you invested in this heartbreaking journey of separation. The film till its last bit shows us how love may never fade between a couple after divorce but it may evolve to a newer phase and how marriage may not have been the right kind of vessel for their feelings to brew.  Noah Baumbach' s  brilliant screenplay and direction brings this film alive and had it been a little crisper considering its Netflix audience, I would have enjoyed it more. In any case, keep a tissue box handy for this one!