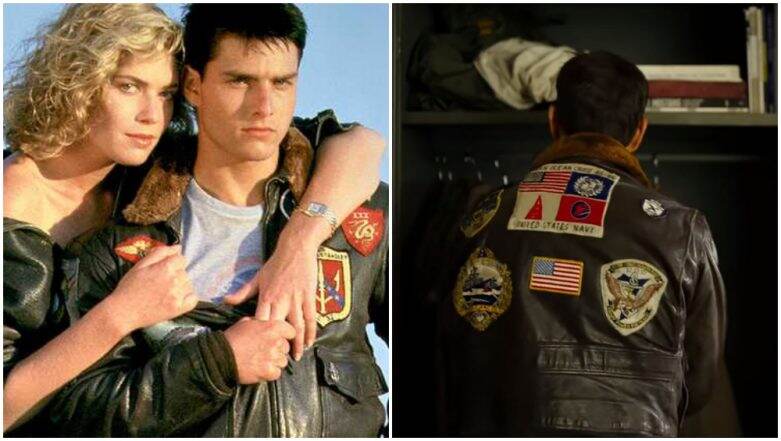 The first trailer of the upcoming action-drama, Top Gun 2: Maverick, dropped on the internet a few days back. And it has become an internet rule to debate over a Tom Cruise starrer film even before it releases. Top Gun sequel is no different. The internet is currently having a collective meltdown over the fact that Tom Cruise's iconic jacket from the first film appears with significant changes in the sequel's trailer. The changes have been apparently made to appease China. The original jacket had patches of Japanese and Taiwanese flags but now only symbols in a similar colour scheme appear. BTW, we thought the trailer of Top Gun 2: Maverick was pretty cool and awesome.
Another change that has been made to the jacket is that Maverick's FAR EAST CRUISE 63-4 tour patch is now an INDIAN OCEAN CRUISE 85-86 patch. Top Gun had opened in theatres in 1986. Since then, China has emerged as the second-largest consumer of cinema as per the box office. And China is not exactly BFFs with Japan and Taiwan. Hollywood studios have been avoiding any possible thing that could offend the Chinese cinemagoers and authorities.
Check out this tweet:
There's a new Top Gun movie coming out. And Maverick is wearing the same leather jacket - only this time it's Communist Party of China-approved, so the Japanese and Taiwanese flag patches are gone (screenshot on right is from the new trailer)... pic.twitter.com/gUxFNFNUKX

— Mark MacKinnon (@markmackinnon) July 19, 2019
But on the other end of this debate are fans who think the changes in Maverick's bomber jacket are not a result of any geopolitical appeasement. In fact, it might simply be the natural flow of the story. The original patches on the jacket might be a nod to Maverick's father's tour in the army. The new patches might be a nod to his own time.
Ward Carroll, a former F-14 Tomcat pilot said on Twitter that the original patches made zero sense in the first place, let alone the new patches being a legit topic for debate.
The patch assortment on flight suits and jackets in the Top Gun franchise has always been a running joke (among running jokes) for those in the #NavyAir business. They are random in where they are placed and commands they represent. Seek no meaning because there is none.

— Ward Carroll (@wardcarroll) July 19, 2019
Top Gun 2: Maverick will feature Tom Cruise's character still operating at the same rank as he did in 1986. He is still a captain in the Navy even after 30 plus years of service. The movie directed by Joseph Kosinski is slated to release on June 20, 2020.