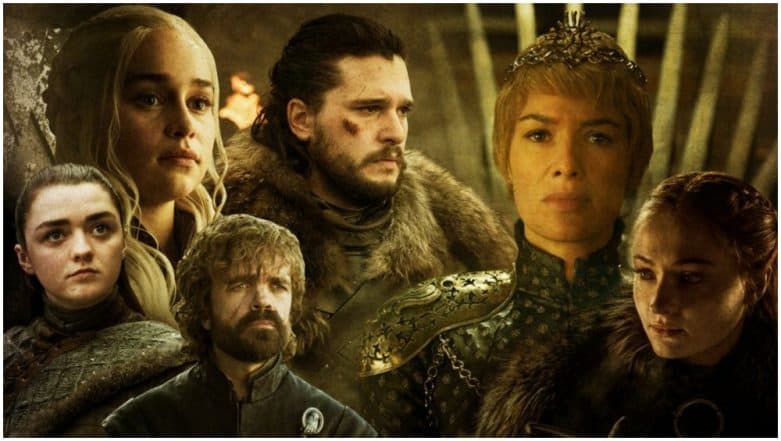 Game of Thrones finale is just a week away and it's time we bid adieu to all our beloved characters. The series started in 2011 and it has come a long way since then. While fans were clearly thrilled to witness an epic chapter in the history of GoT, seems like writers weren't excited about it. Why else would they pen such disappointing episodes? With some major goof-ups here and there, the season so far has been underwhelming. Blame us for keeping some high hopes but we deserved better and Daenerys especially. Game of Thrones Season 8 Episode 5: Twitterati is Unhappy with Daenerys Targaryen, Tag her the 'Mad Queen'.
From unveiling her mad side to Cersei and Jamie's final goodbye, this episode was a roller coaster ride and we don't mean it in a good way. It was frustrating and annoying, to say the least. Twitterati is clearly with this new change of events. Though certain loyalists to Daenerys are cheering for her brave decision, a majority of the viewers are unhappy are irritated and even angry with the outcome.  Game of Thrones 8 Episode 5 Recap: From the Rise of the Mad Queen to Major Deaths, Everything That Happened in 'The Last War' (SPOILER ALERT).
Join these folks in voicing your displeasure and you may finally find some peace.
  Writers, what did you do?
The real villains of GOT. 🙄 #GameofThrones pic.twitter.com/ubg84zZrXc

— gail (@purplinkglam) May 13, 2019
Arya will kill Dany?
Arya fixing her list of names now that the Mad Queen has risen. #GameOfThrones pic.twitter.com/pUO5MpDBqY

— Maren Soetaert (@mernsueyATC) May 13, 2019
Who else is mentally killing them?
Me talking to the writers after Season 8 is over. #GameOfThrones pic.twitter.com/Cdo9IL4rw6

— Bryan Kirby (@bryankirbyy98) May 13, 2019
They deserve all the blame
The real enemies#GameOfThrones pic.twitter.com/0heo9oH9bb

— Huntah (@_huntah) May 13, 2019
Down and how!
look at their faces they knew this show was going down hill #GameofThrones pic.twitter.com/utO6FVxkQh

— 𝐉. | 𝐭𝐡𝐞 𝐝𝐫𝐚𝐠𝐨𝐧 𝐪𝐮𝐞𝐞𝐧 (@livelovebread) May 13, 2019
Finale better be good!
the writers walking into the writers room to talk abut the final episodes:#gameofthrones pic.twitter.com/7BS5zdTe6y

— fran not so fine✨ (@mount_vesusieus) May 13, 2019
We all got played
Me wasting my 10 years for this ending #GameofThrones pic.twitter.com/RRWBof2yyV

— Pen🐧 | SEESAW (@ValerieB304) May 13, 2019
Pissed
Me after watching today's episode#GameofThrones pic.twitter.com/YMcyaZqv7W

— MochiMochi13 (@mochi13_mochi) May 13, 2019
We hope the writers have no intentions of ruining the finale for us next week. Eight years is a long time to mentally invest in something and it's final outcome better be good. Not that we have any hopes, especially after this new episode. Nonetheless, there's no harm in keeping your fingers crossed and waiting for the show to end on a great note.