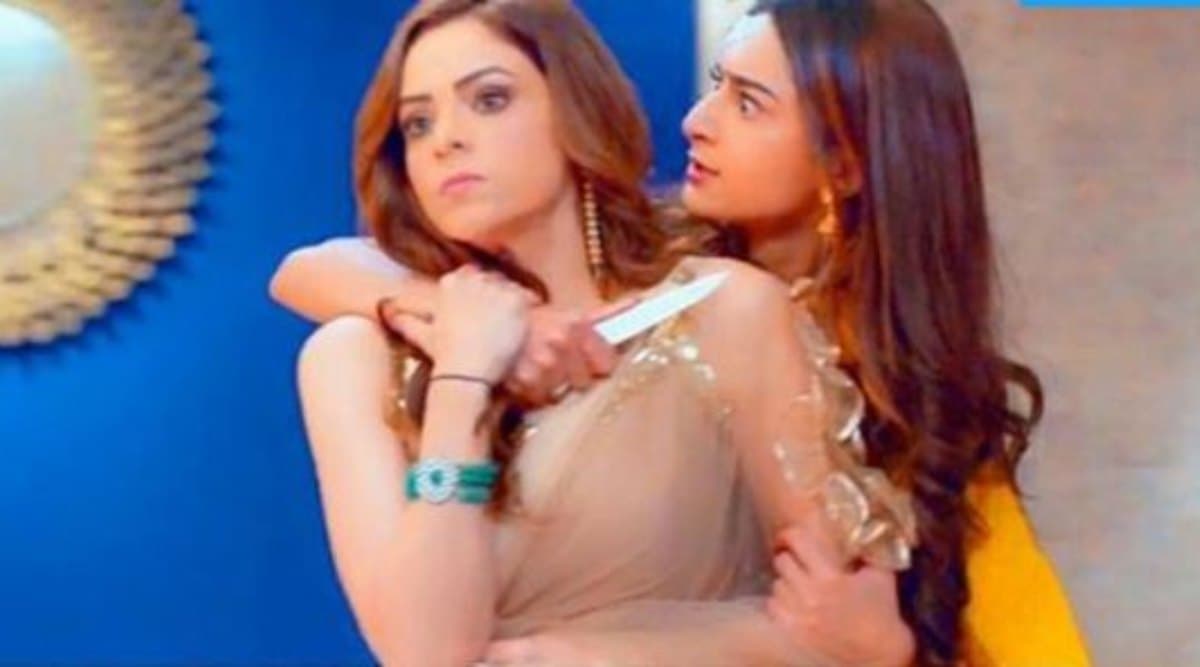 In yesterday's episode of Kasautii Zindagii Kay 2, we saw Prerna slap Sonalika and warn her to stay away from her and her unborn child. Anurag and Anupam catch the truck driver who tried to kill Prerna. In tonight's episode, we see Prerna (Erica Fernandes) challenges Sonalika (Aamna Sharif) to tell Mohini about her true identity if she can. Prerna gets Anurag's (Parth Samthaan) call, she goes out to talk. Mohini tells Prerna to open the door. As Prerna comes out of the room Mohini asks her what she told Sonalika. Prerna tells that it is between her and Sonalika and leaves. Mohini comes and asks Sonalika what happened? Sonalika tells nothing serious. Kasautii Zindagii Kay 2 December 18, 2019 Written Update Full Episode: Anurag Catches Hold of The Truck Driver, Prerna Slaps Sonalika
Mohini thinks she has to talk to Prerna so that her entry is prohibited in the Basu house. Prerna calls Anurag and asks why he called. Anurag tells her that he is video calling her and she should see if the culprit is this person or not. Meanwhile, Anupam follows Ronit to find out the truth. Ronit calls Sonalika who cuts his phone as she is no mood to talk to him. Anurag video calls Prerna and shows her the truck driver and asks whether this is the same person who tried to kill her. Prerna recognizes the driver and confirms it. Anurag gets furious and starts beating him. Prerna tells Anurag to be careful. Anurag is not able to control his anger and goes on beating him and asks who has sent him. Just then Ronit comes there with his car. Ronit picks the driver and tries to flee from the spot. Anurag runs behind the car and catches hold of the driver. Anurag sees Ronit inside the car and vaguely recollects the past. Anurag gets disturbed and holds his head as it aches. Prerna sees Anurag in pain and panics. Anupam comes and picks Anurag and makes him sit in the car.
Mohini on the other hand, confronts Prerna and asks why she is trying to enter Anurag's life again. Prerna tells Mohini that she left the house and not Anurag. Prerna tells Anurag is her child's father. Prerna tells her she will take her rights back. Kasautii Zindagii Kay 2 December 17, 2019 Written Update Full Episode: Anurag Ruins Sonalika's Plan to Hurt Prerna and Takes Her Home
Meanwhile Anupam and Anurag follow the truck in which Ronit and the driver escaped. The truck stops in the traffic signal. Anurag and Anupam get out of their car and go to see who is inside the truck. Anurag is shocked to see a different person sitting there and asks who is he? The person tells Anurag that this truck was gifted to him by a person who told him to take it.
Later, Anurag and Anupam hire a detective to find out who is behind Prerna's life. Anurag tells the detective that he should also find out about Prerna's husband. Prerna thinks about Anurag and thinks should she call him or not. Anurag thinks who is behind Prerna's life. Anurag video calls Prerna. Prerna asks Anurag what happened in the mill. Anurag unfolds all that happened. Anurag also tells her about the person he saw and could not recollect whether he knows the person or not. Prerna tells Anurag to take care of himself. Anurag asks Prerna why is she so much tensed for him.
Sonalika tells Mohini that she wants Prerna to stay away from Anurag. Mohini assures her that everything will be fine. Mohini gives the farmhouse keys to Sonalika and tells her that they will go there with only family members and no outsiders.
In the next episode, Sonalika tells Prerna that society will think her child's father is Bajaj and not Anurag as she was married to the former.