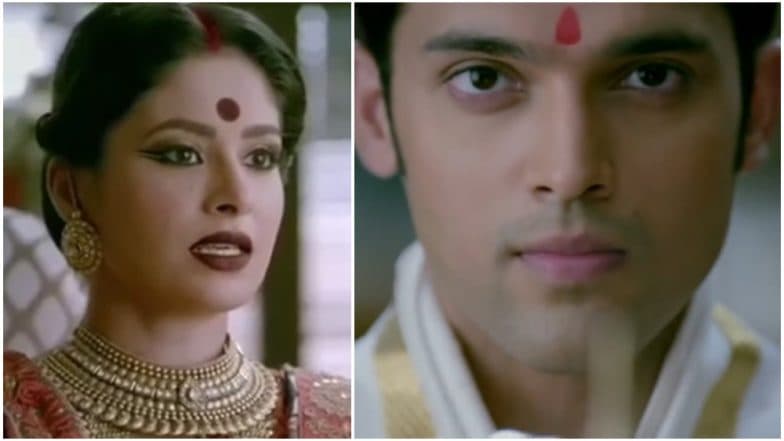 Today's episode of Kasautii Zindagii Kay 2 starts with Komolika asking where is Mohini, Nivedita tells she is upstairs and takes her up. Prerna(Erica Fernandes) goes in the bathroom to wipe the sindoor and flashbacks and thinks about Anurag's words and smiles. Just then Anurag (Parth Samthaan) comes and hold her hand and tells let it be it is looking good and says it is a pre-announcement that Prerna is Anurag's and that he wants the sindoor to be there on her forehead and let it go by itself. Anurag tells that after seven days he will put this sindoor in her forehead in the presence of everyone, Prerna feels shy (dewani mein dewani track is played in the background). Kasautii Zindagii Kay 2 February 7, 2019 Written Update Full Episode: Prerna and Komolika Fight Over Anurag, Who Will Win the Challenge?
Anurag tells Prerna that after seven days they will be together with each other and the moment when they will be in the mandap and do the rituals and finally the pandit will say the marriage is completed and give blessings. Moloy watches them from outside the room and feels very excited. Anurag says Prerna not to go, just then Shivani comes to the room and sees them and is very happy. Anurag says that after seven days she will be in front of his eyes and he won't let her go anywhere.
There Moloy is so happy that he brings Rajesh up in his room holding him and dancing with him. Rajesh asks what happened and is he gone crazy, Moloy says that he has become crazy and tells Rajesh that he is going to be promoted from a friend to a family member. Rajesh is still confused and asks what is he saying. Moloy tells him that Anurag and Prerna were in each other's arm and were in love and Anurag proposed Prerna and she acknowledged. Moloy says that when they were kids from then he had this dream that Prerna should be his daughter-in-law and now his wish is going to be fulfilled. Kasautii Zindagii Kay 2: Komolika Is All Set to Bring In Another Twist in Anurag and Prerna's Love Story – Watch Video
Moloy says now no one even Mishka or Naveen will come between them. Rajesh is also happy hearing this news. Moloy says it was so nice to see them together and tells Rajesh that he should be prepared to welcome him and do preparations of the functions and make his outfits ready, and next seven days no office as they will be busy in organizing the marriage. Moloy tells Rajesh not to get emotional and go and start the work. Anupam is also happy knowing that Anurag had proposed Prerna. Nivedita comes and asks what is all this about, Anupam changes the topic and says that he is also feeling not well and should show to a good doctor and checkup and sits on the sofa.
Seeing Moloy so happy Nivedita asks what is the matter, he says nothing and that he is in tension as Mohini is not well. The doctor comes and tells them that only after the reports come he can tell what has happened to Mohini, Anurag asks she was shivering before she fainted. The doctor says may be viral but he can tell the reason only after seeing the report. Rajesh and family take leave of them and go. Prerna and Anurag see each other while going.
Meanwhile, Komolika is talking with Mohini and telling her that actually she came there to meet Anurag, to see whether he is fine and then she got the news that Mohini is not well so she came to see her. Mohini thinks how good this both sisters are and how Prerna is always behind Anurag. Komolika thinks that she is the one who can replace Prerna and get closer to Anurag.
Just then Anurag comes in and tells Mohini to take her medicine, the medicine fall down and Anurag and Komolika both bend down to get it, Mohini notices that Komolika is seeing Anurag and thinks what is the meaning of this and is she interested in Anurag. Komolika takes leaves and tells sorry that Mishka could not come as she had gone to a party that is why she was not able to come and tells Anurag to rest.
Prerna is trying to sleep just then Shivani comes and asks what all happened between her and Anurag and tells Prerna that she heard everything but wants to know from her. Prerna narrates what all happened in the temple and that within seven days Anurag is going to marry her, Shivani feels very happy and hugs Prerna.
Mishka comes to the Basu house and asks Nivedita where is Mohini, Nivedita says she is upstairs resting and questions Mishka is she not concern about Anurag. Mishka tells that she wanted to take care of Mohini and that she can take care of Anurag afterward also. Nivedita says she is happy to see her concern for Mohini. There Prerna is getting ready and picks up the phone to call Anurag and tells him that by mistake the call got connected.
Anurag tells she should call him some time to enquire how is he and tells is she does not want to talk he will keep the phone. Prerna says that she wanted to call him only as now calling him feels little awkward, Anurag says when she smiles she looks very beautiful and tells that now it is confirmed that he loves Prerna while saying this he sees Mishka there. In the precap, Anurag telling Mohini that he does not have feelings for Mishka.